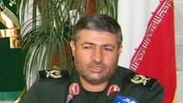 General Mohammed Ali Allah Dadi
Israeli intelligence was reportedly able to track down the location of Iranian General Mohammed Ali Allah Dadi, who was killed in a strike attributed to Israel last week in Syria, via his cellphone, Lebanon's The Daily Star quoted Lebanese newspaper Al Joumhouria as saying on Sunday.

According to the paper, diplomatic sources said that investigations conducted by Hezbollah indicated that Brig. Gen. Mohammad Ali-Allah Dadi's phone had been on while he was in an area that Israeli intelligence closely monitors.

The cell phone monitoring information was a key point to the success of the operation, the report said, as Israeli forces had managed to track down the exact location of the Iranian general due to the fact that his phone had been turned on while he was leaving Damascus and heading towards the Syrian village of Quneitra to join a Hezbollah convoy.

Six Iranians, including the Iranian general, and six Hezbollah officers – including the son of Imad Mughniyeh – were killed in the strike on the Syrian border, allegedly undertaken last Sunday by Israel.
Hezbollah: Israel behind Syria crisis
A week after the airstrike in Quneitra, a senior Hezbollah official has finally commented on it, saying that "the Israeli attack is an attempt to create a new equation in the fight between the two sides, but Israel can't subject the region to its dictates."
Hassan Nasrallah's deputy, Sheikh Naim Qassem, said that "the Israeli aggression in Quneitra showed that the one leading the aggression against Syria is primarily Israel."
He said Israel was cooperating with rebels working to oust Syrian President Bashar Assad, including in the Quneitra area.
Qassem vowed to "continue the jihad. We'll be wherever we need to be, no one will stop us," but did not say Hezbollah's response to the attack will be, noting that Nasrallah will "announce the organization's official stance" in his speech on Friday.