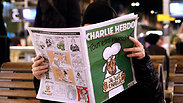 Charlie Hebdo issue hits stores
Photo: EPA
Yisrael Beytenu leader Avigdor Lieberman said Sunday that his party's volunteers will purchase thousands of copies of French satirical magazine Charlie Hebdo and distribute it for free around Israel, after an Israeli book seller said it would only sell it online.

Following threats and warnings, the Steimatzky bookstores chain backtracked on its decision to hold the launch event for the weekly magazine at its flagship store.

The French weekly's latest issue, published after Islamic extremists massacred 12 journalists at its Paris office, will be available at Steimatzky starting from Monday. In spite of the attack, which came after years of repeated threats, the 1,178th issue of the magazine provocatively featured the Prophet Mohammed on the cover.

MK Masoud Ganaim (UAL-Ta'al) warned Prime Minister Benjamin Netanyahu on Saturday that he and Steimatzky will be responsible for the consequences of selling the issue in Israel.

"If the Prophet Muhammad is drawn in a humiliating and offensive manner, the Muslims will not stay idle," Ganaim told Ynet. "My duty as an elected official, as an Arab and a Muslim, to warn that if something like this is distributed, it'll cause tensions. Only a week ago two Arabs were murdered in Rahat by police, so why add fuel to the fire?"

To explain his decision to facilitate free distribution of the magazine, Lieberman said that "you cannot turn the State of Israel into the Islamic State. We won't allow radical Islam to terrorize us and turn the State of Israel into a state that submits to threats and hurts freedom of speech. Steimatzky's behavior is unreasonable and inappropriate, it's surrendering to terrorism."

Lieberman asserted that "the warning by MK Masoud Ganaim to the prime minister ... is another red line crossed by the Israeli Arab public's leadership."

Steimatzky said in response that "we have employees from all sectors and we need to take them into consideration. This is an issue that has had limited distribution in the world anyway, and was supposed to be sold in only one store."

The book seller went on to say that even before MK Ganaim's warning, customers called "from places like Katzrin and asked us to sell the issue in a more convenient place. This isn't surrender to pressure, but rather consumers who want fair access to the issue and employees who are bothered by it. We've been selling the weekly for three years and will continue selling it."

Steimatzky imported 700 copies of the latest issue of the magazine and will sell it at NIS 35 per copy. It'll impose a two copies per person limit on the sale. The magazine will go on sale on the company's website at 5pm Monday.