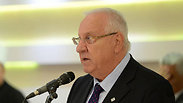 President Reuven Rivlin
Photo: GPO
Rivlin invited to meet Obama during first US visit as president
White House plays down rift, saying no room for 'blame game' after Rivlin rejects offer to meet with Obama during five-day trip to US; president will adress UN Holocaust memorial in NY, hold talks with Ban and meet members of Jewish, African-American communities.
President Reuven Rivlin has rejected an offer to meet with US President Obama, a statement from his office said Sunday as he left on his first official visit to the United States, where he will address a UN session marking 70 years since the end of the Holocaust.
His trip comes at a point of high tension between Israel and Washington after Prime Minister Benjamin Netanyahu accepted a controversial invitation to address a joint session of Congress in early March in a move which was not coordinated with the White House. Netanyahu defended the move on Sunday, saying it was his obligation to help Israel wherever he can.
Rivlin was offered to meet with US President Obama during an upcoming visit to the US, but rejected the offer for logistical reasons, a statement from his office said Sunday.
Related stories:
"Over the past few days, there has been contact between the relevant parties in Israel and the US, discussing the possibility of a meeting between President Obama and President Rivlin during his visit to New York to address the United Nations Holocaust commemorations.
"At this stage, it has been agreed not to hold a meeting during his visit, due to the schedule constraints of both leaders, and that a meeting would be scheduled at a later date," the statement said.
During the five-day trip, Rivlin will be in New York to address a UN Special Assembly on International Holocaust Remembrance Day on Tuesday at the invitation of UN Secretary General Ban Ki-moon, his office said.
Rivlin, who took office as Israel's 10th president in July, will also hold talks with Ban and meet members of the African-American, Hispanic and Jewish communities.
Rivlin: I have a dream
President Rivlin began his visit to the United States with as guest of honor at a special meeting with leaders and members of the African-American community. His visit began with the Christian Cultural Center (CCC) in Brooklyn, where he was welcomed by founder and senior pastor Reverend Dr. A.R. Bernard.
Rivlin meets African-American community leaders in New York (Video: GPO) (צילום: לע"מ)
Rev. Bernard introduced the president as an uncompromising fighter for civil rights, a Jerusalemite, who understood that, "Only a nation that has survived the Holocaust will know the importance of friends to move forward."
The reverend thanked the president for joining them and allowing this special meeting, where thousands of members of the African-American community in Brooklyn took part in a festive and joyous reception for the president.
Rivlin thanked them for the warm welcome and said "I also have a dream, I believe that Jerusalem, which is a microcosm of the whole world, will serve as an example of coexistence between different religions and communities. A person cannot fight for their own liberties, without fighting for the freedoms of others."
US tensions
Netanyahu's visit to Washington will take place in early March, just two weeks before snap elections in Israel, and the White House has already said that President Barack Obama will not meet the Israeli leader, given the proximity to the vote.

The Obama administration fears Netanyahu's address, which is to focus on the threat he sees from Iran, could be used by the Republicans – who control Congress – to undermine ongoing nuclear talks with Tehran just as they appear poised to bear fruit.

White House Chief of Staff Denis McDonough, asked on CNN's "State of the Union" program on Sunday about the controversial Congress invitation to Netanyahu, said the Obama administration did not want to get into a "blame game" over the issue.

"Let's take a step back: This is the most important relationship we have in the world. This is something that ought to be and will continue to be, as far as we are concerned, above partisan politics," he said, referring to U.S. ties with Israel.

The relationship, McDonough said, "stretches across many different things: from values, straight through intelligence cooperation, to defence and security assistance."

In his statement, Rivlin stressed that Washington "was a true friend and important ally of Israel".

AFP contributed to this report