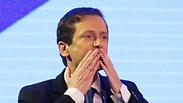 Zionist Camp chairman Isaac Herzog
Photo: Motti Kimchi
"This is the team that will turn Israel around, this is the team that will restore hope. We are the real Zionists," leader of the center-left bloc, the Zionist Camp, Isaac Herzog told a hall packed with potential Knesset members and supporters.

The Labor party – led by Herzog – joined forces with the centrist Hatnua movement – led by Tzipi Livni – to form the Zionist Camp. Sunday evening the two introduced their joint list and slammed their main rival – Likud leader Prime Minister Netanyahu – who has recently launched a smear campaign against the bloc, dubbing them "anti-Zionist."




Herzog fired back at the prime minister, saying "the list is the most Israeli, the most moral, the most attentive to the public – and yes, also the most Zionist. We are the clear alternative at this historical junction, the choice is clear: It's either us or him."

Related stories:

Tzipi Livni, who holds the number two spot on the joint list, praised Herzog, who she called "Israel's next prime minister" and turned to Netanyahu and said: " Enough, stop trying to scare the public, we are not afraid. You are the one who seems scared – because you know your time has come to an end."




In addition to former MI chief Amos Yadlin, former Labor leader MK Shelly Yachimovich and social protest leaders like MK Stav Shafir, Prof. Manuel Trajtenberg and Itzik Shmuli from the Labor list, the Hatnua adds a number of promitent figures to the camp.

For example, former defense minister Amir Peretz, himself a former Labor leader, who was instrumental in securing funding for the development of the Iron Dome missile defense system.




Also from the Hatnua is former Kadima MK and Hatnua member Yoel Hasson. Hasson, 41, joined the Kadima party when it was formed and became an MK at the age of 33. He was the chairman of the coalition and chaired

the State Comptroller Committee at the Knesset. A little less than two years ago he joined Livni's Hatnua party and was placed at number 7, but did not enter the Knesset after the party only received 6 mandates.



Hasson is considered a prominent and hardworking legislator and a socially-oriented MK. Among other things, he led the legislation to ensure widows of fallen IDF soldier who remarried will still get the benefits they deserve, as well as a law limiting parking lots' prices. He also established the lobby for animals at the Knesset.

Also from the Hatnua is environmental activist Yael Cohen-Paran, the founding and current CEO of the Israel Energy Forum and previously the head of Megama Yeruka, an environmental activism organization, was one of the leading opponents of the Trans-Israel Highway (Highway 6).

She tried to run for Knesset in the 2009 and 2013 elections with The Green Movement, but the party failed to pass the threshold both times.