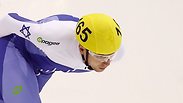 Vladislav Bykanov
Photo: Gettyimages
Vladislav Bykanov has taken the gold in the 3000m race of the European Short Track Speed Skating championship. It is the first time an Israeli has won the international competition.

"I cannot express in words how it feels to be the European championship," he told Ynet. This is a huge step forward in my career."

The 26-year-old from Kiryat Shmona beat out the world champion Viktor Ahn by some 500 meters. Ahn, a Russian skater who emigrated to the country from South Korea, won the gold in the 2014 Sochi Winter Olympics. Bykanov beat Ahn by 15 seconds.

"I am very pleased with my performance in this season, because I manage to stay focused even when I fail. Of course, training with the Dutch team has also been an enormous help," he said.

Though the 3,000 meters is not an Olympic sport, Bykanov did represent Israel in Sochi and even carried the Israeli flag during the opening ceremony and finished in 6th place during the second place finals, completing the 500 meters with an impressive 41.480 .