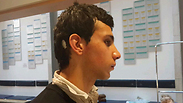 Suspects arreseted in attack on Tommy Hassoun.
The Jerusalem police arrested six men on Monday on suspicion on involvement in the brutal attack on 21-year-old Druze student Tommy Hassoun last week. The suspects were brought Jerusalem Magistrate's Court for a hearing on the extension of their remand.

Tommy Hassoun was brutally attacked by a group of Jewish men in Jerusalem on Thursday – reportedly after they heard him speaking Arabic. What Tommy Hassoun's assailants did not know was that they were attacking a young man who had completed his IDF service three months earlier and had recently moved to Jerusalem to study music.

The men, who were wearing skullcaps, hit the 21-year-old Druze student and broke a glass bottle on him. Hassoun was hospitalized suffering from bruises to his face and back of his head.

Related articles:

Hassoun, a musician who grew up in the Druze town of Daliyat al-Karmel near Haifa, had moved to Jerusalem to study at a music academy. For his military service, Hasson had served in a combat unit and later at the President's Residence.

On Sunday, Hassoun posted a message on his Facebook preaching peace and tolerance – despite his ordeal.

"Many people who have never met me asked forgiveness," wrote Hassoun. "I am in a lot of pain, but my head is held high."

President Reuven Rivlin, who knew Hassoun from his IDF service, called the young man's father to express support for the family.

On a personal level I believed up until now that this is one nation – I never saw a difference between a Jew and a Druze," said Hassoun's father. "I believed and I will continue to believe in the future that this is the land of the Jewish nation – it has a right to live here."

Tommy's brother, Julian, said: "A month ago two Druze police officers were murdered during terror attacks and now a Druze gets hit by Jews."