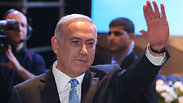 Netanyahu brushes off allegations against wife as media attack before elections.
Photo: Motti Kimchi
Prime Minister Benjamin Netanyahu on Monday brushed off allegations by two disgruntled former employees of the Prime Minister's Residence, saying the publication of their leaked testimony was part of a media attack against him and the Likud prior to the March general elections. The reports claimed that Sara Netanyahu had issues with alcohol abuse and had verbally attacked her employees.

"The media's attack on my wife Sara is another low point in relations with the heads of the Israeli media who are using all means to hurt me and my political path," said Netanyahu.

According to the prime minister, the "Just Not Bibi" campaign has turned into the "Just Not Sara" campaign in order to "slander, accuse, attack and bring down the Likud's reign under my leadership and pave the way for the left." Netanyahu added: "Whoever wants to attack our country in this pointed manner is invited to – but leave my family alone."

Guy Eliyahu and Meni Naftali claim their rights as a workers were abused during their time at the prime minister's official residence. They also claim that Sara Netanyahu verbally abused them

Eliyahu described Sara's fits of rage and said there was an atmosphere of fear among him and his coworkers "especially after she (Sara) had a significant amount of alcohol to drink, that other workers and I brought to her room on a daily basis."

Eliyahu claims that more than 20 workers quit during his time at the residence.

In another incident reported in the testimony, Sara Netanyahu fumed at the workers for opening a canopy over their patio for a brunch, despite the fact they did so at the request of the prime minister. According to the testimony, the prime minister's wife was upset because dust from the canopy had fallen onto the table and silverware.

According to the testimony, Netanyahu and his sons tried to calm her anger, but to no avail: "Enraged, the prime minister's wife took hold of the table cloth and pulled it towards her, with all the food and silverware still on the table. She then forced me to set up the table again and clean up the mess."

The Prime Minister's Office said: "This is nothing but pathetic gossip-mongering intent on sullying the (prime minister) and extracting money illegally from the PMO."