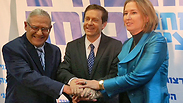 Yadlin, Herzog and Livni
Photo: Motti Kimchi
Amos Yadlin, the former Military Intelligence chief who is now the Zionist Camp's candidate for defense minister, on Monday sharply criticized Benjamin Netanyahu's planned speech in Congress two weeks before the general elections in Israel, accusing the prime minister acting irresponsibly.

"I think it's a political game, I think what makes the prime minister irresponsible, "Yadlin said, during an interview at the Ynet studio.

Regarding the crisis sparked when neither the Israeli government nor the Republican controlled Congress informed the White House of Netanyahu's March 3 visit, Yadlin said that, "when we manage our relationship with the US, we have to manage it simultaneously with the president and Congress. The prime minister has made it in to a partisan issue in the US, and we cannot let Israel become a problem for one party or the other."

He added: "It is irresponsible to enter into a confrontation with the US president that influences the agreement with Iran. It is almost our only ally in the world from a military and security perspective. If the North erupts, there is a lack of responsibility and lack of vision regarding what is important to Israel at this moment in its ties with the United States. The speech in Congress will not affect the deal. "

The former intel chief stressed that the most pressing issue facing Israel at the moment is Hezbollah and its activities on Israel's northern border.

"We have to prevent Hezbollah and Iran organizing to act against us on the Golan Heights. We have to have a plan for dealing with Hezbollah and ensuring that the conflict is as short and as decisive as possible."

On future negotiations with the Palestinians, Yadlin said that while Palestinian President Mahmoud Abbas might not be the ideal candidate for talks, it was incumbent on Israel to prove to the world that it was making every effort to reach a peace deal.

"I'm not convinced that Abbas is a partner," he said. "But I want to try again, and if it fails the blame will not fall on us. We have to enter negotiations with clean hands. We need to make it clear that Israel willing to take the steps required of it, and prove that if there is no peace, the problem is with the Palestinians. And then we can go for a regional solution."