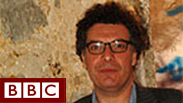 Tarik Kafala, head of BBC Arabic
BBC Arabic chief Tarik Kafala said the Islamists who committed the massacre two weeks at the Charlie Hebdo office in Paris should not be called terrorists.

Kafala, who runs the BBC's largest foreign office in the Middle East, told the Indendepent that the "terrorist" moniker was too "loaded" to describe the attack that killed 12 people at the satirical magazine's headquarters.

"We try to avoid describing anyone as a terrorist, or an act as being terrorist," Kafala told the Independent. "What we try to do is to say that 'two men killed 12 people in an attack on the office of a satirical magazine'. That's enough, we know what that means and what it is."

The United Nations has tried unsuccessfully to define the term "terrorism" for more than a decade, Kafala added. "We know what political violence is, we know what murder, bombings and shootings are and we describe them," he said. That's much more revealing, we believe, than using a word like terrorist which people will see as value-laden."

The Independent noted that Kafala's reasoning is in line with the BBC's editorial guidelines, which state that "the use of the words 'terrorist' or 'terrorist group' can create inconsistency in their use or, to audiences, raise doubts about our impartiality.

"It may be better to talk about an apparent act of terror or terrorism than label individuals or a group."

The guidelines suggest using words such as "bomber", "attacker", "gunman", "kidnapper" or "militant" that describe perpetrators of attacks more specifically.