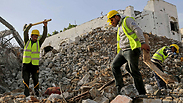 Workers clearing wreckage caused during Gaza war
Photo: AP
The UN agency for Palestinian refugees said on Tuesday that it cannot afford to repair Gaza homes damaged in last year's war between Israel and Hamas because donors have failed to pay.

"The agency has exhausted all funding to support repairs and rental subsidies," the United Nations Relief and Works Agency said in a statement.

"US $5.4 billion was pledged at the Cairo (aid) conference last October and virtually none of it has reached Gaza. This is distressing and unacceptable."

On Monday, envoys from the Quartet of Middle East peace mediators said it was urgent to improve the "dire humanitarian situation" in Gaza.

Envoys from the Quartet - the United Nations, the United States, the European Union and Russia - met in Brussels on Monday to discuss prospects for reviving the Middle East peace process, noting that it was important to engage closely with Arab partners in attempts to do so.

The last talks between Israel and the Palestinians broke down in April after months of largely fruitless negotiation, with the Palestinians angry at the continued building of Jewish settlements in territory they want for their future state, and Israel furious at attempts to bring the Islamist terror organization Hamas, which officially denies Israel's right to exist, into the Palestinian government.

The Quartet envoys "also underscored the urgency of improving the dire humanitarian situation in Gaza and agreed that every effort should be made to encourage the fulfillment of pledges of assistance made at the Cairo Conference on the reconstruction of Gaza in October last year," a statement issued after the talks said.