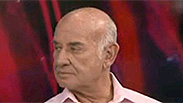 "Benjamin Netanyahu is destroying our relationship with our most important ally," MK Yaakov Peri, until recently Science, Culture and Sport Minister, said in an interview with Ynet on Tuesday, commenting on tensions between Prime Minister Netanyahu and US President Barack Obama over the prime minister's planned speech to the US Congress, two weeks before the Israeli elections.
On Monday, Yesh Atid Chairman Yair Lapid presented his faction's electoral list, with Peri in the fifth slot. Weighing in on the dispute with Obama, Peri said: "We are in the midst of an ongoing crisis with the US, which didn't start just with the speech. Disagreements are normal and arguments are fine, but instead of making efforts to calm the situation – they are aggravated."
"Now all everyone talks about is how crudely Israel intruded into the American internal political system, and how Israel acted wrongly in not informing the White House, the president, John Kerry and the State Department. We are on a serious collision course with the US, and the government will eventually take action.
Peri continued: "I am convinced that the prime minister is damaging Israel's security. I say it day and night…He is hurting Israel's security and the safety of soldiers, as the Americans draw a link between their relationship with Netanyahu and the State of Israel and Abbas' moves at the International Criminal Court.
The MK added that a decisive US opposition to the Palestinian initiative is vitally important for Israel to prevent the ICC prosecutor from opening a preliminary investigation.
"Netanyahu's insistence (to speak before Congress) is beyond me. I would even call it arrogance," Peri said.
On Tuesday, Amos Yadlin, the former Military Intelligence chief who is now the Zionist Camp's candidate for defense minister, also sharply criticized Netanyahu's planned speech, accusing the prime minister acting irresponsibly.
"I think it's a political game, I think what makes the prime minister irresponsible, "Yadlin said, during an interview at the Ynet studio.
Regarding the crisis sparked when neither the Israeli government nor the Republican controlled Congress informed the White House of Netanyahu's March 3 visit, Yadlin said that, "when we manage our relationship with the US, we have to manage it simultaneously with the president and Congress. The prime minister has made it in to a partisan issue in the US, and we cannot let Israel become a problem for one party or the other."