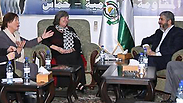 Jenny Tonge with Khaled Mashal. Her comments on Israel were called on 'sinister and abhorrent'.
Photo: Reuters
As the world prepared to mark the 70th anniversary of the liberation of the Nazi death camp Auschwitz, a member of the House of Lords in Britain known for her anti-Israel stance was pushing for the country's Jewish leaders in the United Kingdom to condemn Israeli government policy.

The written question submitted by Baroness Jenny Tonge, who served as a member of parliament for the Liberal Democrats Monday, asks "Her Majesty's Government whether they plan to encourage Jewish faith leaders in the United Kingdom publicly to condemn settlement building by Israel and to make clear their support for universal human rights."

Related articles:

Attacks on Jewish institutions in Europe soared in the wake of Israel's war with Hamas in Gaza in summer 2014, with European leaders quick to condemn anti-Semitic assaults that sought to place the blame for Israeli actions on Jews in the Diaspora.

Tonge resigned from the Liberal Democrat party in 2012 after she refused to apologize for saying that "Israel will not be there forever."

"Beware Israel. Israel is not going to be there forever in its present form," Tonge told a meeting at Middlesex University in February 2012.

"One day, the United States of America will get sick of giving £70 billion a year to Israel to support what I call America's aircraft carrier in the Middle East – that is Israel. One day, the American people are going to say to the Israel lobby in the USA: enough is enough."

She went on to say that, "Israel will lose support and then they will reap what they have sown."

The Board of Deputies of British Jews slammed Tonge at the time, calling her comments "sinister and abhorrent".

Then-British chief rabbi Dr. Jonathan Sacks condemned her remarks as "dangerous, inflammatory and unacceptable."

In 2010, Tonge was sacked as her party's health spokeswoman after insinuating that Israeli forces offering assistance in Haiti after the earthquake there had harvested the organs of victims.