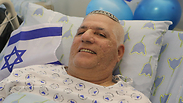 Herzel Biton survives stabbing attack and calls for more security for bus drivers.
Photo: Yaron Brener
Herzl Biton, the bus driver who was seriously wounded in the stabbing attack on Bus 40 in Tel Aviv last week, has regained consciousness after suffering serious wounds and says that he plans on returning to the wheel once recovered. However, Biton is still wary after the attack and says that he thinks security should be provided on all buses – as was customary in the '90s.

"The drivers today are on the front line," said Biton. "Every driver could let on a terrorist with a bomb, gun or knife. The backup provided by security guards is needed and a budget should be set up for this."

On Tuesday, Biton recounted from his hospital bed the moments leading up to the brutal attack and his struggle with the armed terrorist.

"I stopped at the station near the Israel Electric Corporation on Menachim Begin Road and a young man stepped onto the bus. For a second, I didn't think he was a terrorist," said Biton.

"The terrorist was muscular and strong with gel in his hair. In one hand he held 50 shekel and with the other hand, all of a sudden, he started to push my buttons and make sounds. I was sure at first that he was mute," said Biton.

"I took his money from his hand and I gave him back (his) change. After passengers got off the bus because it was packed, he sat behind me…"

As Biton approached the Beit Ma'ariv stop on Menachem Begin Road at a speed of 60 kilomoters per hour the terrorist began to stab him.

"I saw in the mirror that he got up from his seat and began to stab me with a screwdriver and a 40 cm long knife," said Biton. "I literally saw him put the knife into me and take it out. I felt the area (become) warm and then gushes of blood began coming out of me – only then did I realize I had been stabbed," said Biton.

Biton's wounds did not deter the veteran bus driver from trying to prevent the attacker's murderous rampage. "I took the steering wheel to the right at once and he continued to pass by the passengers and stab them. I began to move the bus from side to side in hopes that the terrorist would fall and stop his path of stabbing. At one point I hit the gas and he flew at me like a rocket," said Biton of the traumatizing incident.

Biton then jumped on the terrorist and hit him on the head. The two men then fell out of the bus on to the sidewalk. "I stuck his head to the ground so that he wouldn't stab more people and then he stabbed me again in the shoulder," said Biton.

The terrorist managed to escape Biton's grip and run – Biton began to pursue him but collapsed after 10 meters because he had lost a significant amount of blood.

Biton was then helped back onto the bus. "I thought I was going to die because I began shaking all over my body. I called the head of the transport authority and he called the police and Magen David Adom."

Ever since the attack, passengers and visitors have flooded Biton's hospital room at Tel Aviv's Sourasky Medical Center in order to thank him for his courage and fast-thinking during the attack.

"God protected me and made sure that no passenger was killed," said Biton. "I had a miracle and protection from up above. I thank anyone who took care of me and want to thank the Nachshon unit for capturing the terrorist," said Biton.

Among the many visitors who stopped by to wish Biton well was Larissa Ostimenko ,who was wounded during the attack. "You look much better today," Ostimenko said to Biton.

"During the attack we were next to each other and after they stabbed him I stayed and lied down next to him because I also had no strength after losing a lot of blood," Ostimenko recounted.

Hamza Matrouk, the 22-year-old attacker from Tulkarm, was also hospitalized after the attack. During questioning, Matrouk said he committed the attack as a response to Operation Protective Edge and tension at the Temple Mount. He said he was motivated by radical Islamic material that spoke of "reaching paradise."