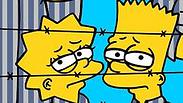 Auscwitz cartoon
Photo: Twitter
Some unlikely famous faces marked International Holocaust RemembranceDay on Tuesday, when Italian cartoonist Alexsandro Palombo recruited the world's most well-known animated family for a controversial tribute.
Palombo drew Marge, Homer, Bart, Lisa, and baby Maggie as emaciated prisoners in the Nazi death camp Auschwitz, standing behind a barbed wire fence, dressed in striped uniforms, and bearing yellow stars.
"Remember Not to Forget" #TheSimpsons and #AnneFrank #NeverAgain #70Auschwitz #Auschwitz #Holocaust #Shoah #Jews pic.twitter.com/V1qnbPhQ1U

— aleXsandro Palombo (@HumorChic) January 27, 2015
The illustrations appeared with the headline "never again". Palombo also drew a Simpsons-like Anne Frank alongside the family, clutching her world-famous diary.
It was unclear whether the drawings were made with the approval of the Hollywood studios that produce the program. Responses ranged from support to rage.
This was not the first time that Palombo used cartoon characters to send am message, with an emphases on the Israeli-Palestinian conflict.
During Operation Protective Edge, for example, he drew Disney's Aladdin and Princes Jasmine as Hamas members that other female figures had caught and bound with ropes.