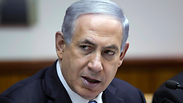 Prime Minsiter Benajmin Netanyahu
Photo: Reuters
Prime Minister Benjamin Netanyahu said attackers who killed two IDF soldiers near the Israeli-Lebanese border would be held responsible.
"Those behind the attack today will pay the full price," Netanyahu said as he launched consultations with security chiefs on a possible further response to the anti-tank attack by Hezbollah fighters.
"For a while not that Iran has been trying - through Hezbollah - to open another terror front against us on the Golan Heights. The government of Lebanon and the Assad regime are also responsible to the consequences of the attacks coming out of their territories against the state of Israel," Netanyahu added.
Earlier in the day, Netanyahu warned Israel's opponents in the north to take the summer war with Gaza as an example of the magnitude of IDF retaliation.
"To everyone who is trying to challenge us at the northern border, I recommend for them look what happened there, not far from the city of Sderot, in Gaza. Hamas took its hardest hit since its formation and the IDF is prepared to act strongly on all fronts," Netanyahu said at a ceremony in the southern city of Sderot.
Labor Chairman Isaac Herzog told Ynet that "we must respond with good judgment and integrate diplomatic views with the power of the IDF." He added that "in the struggle with terror there are no compromises, there is no coalition and no opposition."
Foreign Minister Avigdor Lieberman said on Wednesday that Israel should harshly respond to the attack. "The firing of rockets at our soveriegn territory should be responded to harshly and disproportionately, just as China or the US would in similar circumstances," said Lieberman.
Two soldiers were killed and seven were wounded in an attack along Israel's border with Lebanon Wednesday noon after Hezbollah fire hit Israel.
Mortars later hit Mt. Hermon in an attack which Hezbollah says is a response to the IDF's attack in Syria, which in turn was also a response to rockets fired by Hezbollah at Israel from Syria on Tuesday.
The attack took place near the Mt. Dov area, in proximity to the Arab village of Ghajar.
IDF response to Hezbollah fire. (צילום: אביהו שפירא)
"We will not tolerate any firing towards Israeli territory or violation of our sovereignty and we will respond forcefully and with determination," Defense Minister Moshe Ya'alon said in a statement after IAF warplanes attacked Syrian military targets shortly after midnight on Wednesday.
The air strike on targets in areas under the control of Syrian President Bashar Assad sent a clear message, Defence Minister Moshe Ya'alon said.