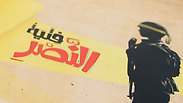 Hezbollah says 'heroic martyrs of Quneitra' luanched attack
Photo: AFP
Lebanese terror group Hezbollah claimed responsibility for attacks on northern Israel Wednesday which wounded at least seven individuals, including IDF soldiers near Mount Dov. Additional mortars hit IDF outposts in Mount Hermon.
A Spanish UNIFIL (United Nations Interim Forces in Lebanon) soldier was reported to have been killed during IDF shelling in southern Lebanon.

IDF response to Hezbollah missile fire. (צילום: אביהו שפירא)
Hezbollah said that the Quneitra Martyr Brigade committed the attack in retribution for Israel's attack in Syria 10 days ago. A report in Turkey's Anatolia news agency said Hezbollah had evacuated its facilities overnight ahead of the border attack. Hamas and the Islamic Jihad praised the attack.
In a statement, Hezbollah said its fighters destroyed a number of Israeli vehicles that were carrying Israeli officers and soldiers and caused casualties among "enemy ranks."
It said the attack was carried out by a group calling itself the "heroic martyrs of Quneitra," - suggesting it was retaliation for an Israeli airstrike on the Golan Heights on Jan. 18 that killed six-Hezbollah fighters and an Iranian general.
Update: Several injured in attack near Mt. Dov. We hold Hezbollah responsible for the attacks in northern Israel today.

— IDF (@IDFSpokesperson) January 28, 2015
Lebanese security officials said Israel later fired 25 artillery shells into Lebanon. Wednesday's attack took place near Mount Dov and Shebaa Farms, a disputed tract of land where the borders of Israel, Lebanon and Syria meet.

The residents of two border adjacent kibbutzim, Kibbutz Dafna and Kibbiutz Kfar Giladi, were instructed to remain at home.

Two Lebanese officials said the Israeli shelling targeted the border villages of Majidiyeh, Abbasiyeh and Kfar Chouba near the Shebaa Farms area. They spoke on condition of anonymity in line with regulations.

On the Lebanese side, there were also no immediate reports of casualties. Families living on the border of the villages fled further within, fearing they would be hit, said the officials, who are based in south Lebanon.

One of the Lebanese officials said the incident is believed to be a "sophisticated Hezbollah operation" targeting Israeli vehicles along the border.

The attack came shortly after Israel launched airstrikes targeting Syrian army artillery posts over night in response to rockets fired Tuesday into the Israeli-held Golan Heights.

Israel has declined to comment on any connection to the Jan. 18 airstrike, but has braced for a response to the strike, beefing up its air defenses and increasing surveillance along its northern frontier.

Elior Levy and the Associated Press contributed to this report