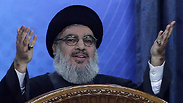 Hassan Nasrallah
Photo: AFP
While some in Tripoli and in Beirut's Dahieh suburb, a Hezbollah stronghold, fired shots of jubilation into the air, celebrating Hezbollah's Wednesday attack on Mt. Dov, senior officials in Lebanon were quick to accuse Hassan Nasrallah's organization of trying to drag the country into another war with Israel.

"Where is the interest of Lebanon if it gets dragged into a war with Israel, when Israel is the one that needs it?" former Lebanese president Michel Suleiman wrote on his Facebook page.

Samir Geagea, one of the leaders of the March 14 Alliance, said that "today's development indicates that Hezbollah is more and more expanding its regional schemes against the Lebanese state."

"Hezbollah has no right to implicate the Lebanese people in a battle with Israel. There is a government and a parliament which can decide on that," Geagea went on to say.

Hezbollah has been facing a lot of internal criticism in Lebanon over the past three years, mostly due to its constantly increasing involvement in the civil war in Syria. Two years ago, Hezbollah sent large forces to Syria to help President Bashar Assad's army recapture territories it lost to rebels trying to oust the Syrian president, after it appeared Assad was losing his grasp on Syria.

Since Hezbollah joined the fighting in Syria, Lebanon has turned into a target for attacks by Sunni rebels - some more moderate than others - as well as attacks by al-Qaeda and the Islamic State, both Sunni organizations opposing the Assad regime.

Dozens of Lebanese people - both soldiers and civilians - have been killed in these attacks, which include car bombs and rocket fire, while Hezbollah has been accused of dragging Lebanon into a war it has no stake in.

Like Syria, Lebanon is a complicated and tangled web of religions and sects which includes Christians, Druze and Muslims. There's a variety of Muslim sects - Sunni, Shi'ite and Alawites.

Lebanon itself was torn to shreds in a civil war that claimed the lives of thousands between the years 1975-1990. Many in the country fear that Hezbollah's involvement in Syria will lead to another civil war, mostly between Sunni and Shi'ites. Many rounds of fighting between Sunni and Shi'ite have already taken place in several Lebanese cities, particularly in Tripoli, since the beginning of the Syrian civil war.

Officials in Lebanon expressed concern of the consequences of any Hezbollah response to the attack in Quneitra even before Wednesday's attack, especially in light of the crisis the country faces - including attacks by Islamic State and Jabhat al-Nusra as well as matters of internal politics.