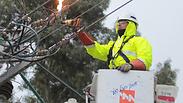 IEC workers fixing power lines
Photo: IEC
The Israel Electric Corporation (IEC) will limit the supply of power to the Palestinian Authority starting Thursday over a debt of some NIS 1.8 billion.

CEO Eli Glickman informed Israel's security chiefs of the move in a letter sent in early January and set the date for its implementation for the end of the month.

The CEO explained that the PA's debts to the IEC had amounted to NIS 1,700,843,315 by December 31, 2014, which leaves the company with no choice but to cut the power supply to the Palestinians by 50 percent for two hours every day - an hour in the morning and an hour in the evening.

The letter was addressed to National Security Advisor Yossi Cohen, Shin Bet Chief Yoram Cohen, Coordinator of Government Activities in the Territories Maj.-Gen. Yoav Mordechai, Head of the Operations Directorate of the IDF Maj.-Gen. Yoav Har-Even, and Police Commissioner Maj.-Gen. Yohanan Danino, as well as relevant government ministries.

The IEC move to cut power for a few hours every day is not a new one - the company sought to go ahead with such a move several times in the past but was stopped by the Prime Minister's Office, due to concern of international pressure on Israel not to hurt the population in the West Bank.

The IEC noted that it continued providing electricity to the Gaza Strip throughout Operation Protective Edge and even repaired infrastructure damaged from bombardments on both sides during the war.

The IEC said in response: "The Israel Electric Corporation alerted the PA and other relevant government ministries of the Palestinian Authority's debts, totaling NIS 1.8 billion, over a long period of time. So far, no solution has been found to pay off the debt. Therefore, out of the wish to avoid hurting the power supply for the civilian population in the West Bank as much as possible, on the one hand, and curbing the increasing debt as much as possible, on the other hand, it was decided to limit the power supply at this point, with the hope that a solution is found soon."