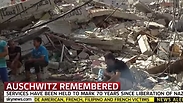 Sky News' 'Auschwitz Remembered' segment
While the BBC was asking its viewers whether it was "time to lay the Holocaust to rest," Sky News decided to draw a link between the Holocaust and the summer war in Gaza by airing images of destruction in Gaza in a segment dedicated to the International Holocaust Remembrance Day.

Anchor Adam Boulton was joined by Britain's Chief Rabbi Ephraim Mirvis in a segment titled "Auschwitz Remembered."

In a discussion on anti-Jewish sentiments, Boulton said that "many people would say that the behavior of the state of Israel, unfortunately, its attitude towards the Palestinians, has poured fuel on anti-Semitism."

While Rabbi Mirvis was responding to Boulton's claims, noting that anti-Semitism has existed long before Israel's establishment and that many of the anti-Zionist sentiments are affected by anti-Semitic ones, images from the wreckage in the Gaza Strip of the summer's war were shown.

Israel's Embassy in London lodged a complaint against Sky News, describing the attempt to compare the summer war in Gaza to the Holocaust as "grave and insensitive."

Embassy spokesman Yiftah Curiel also noted it was "unacceptable" that Boulton placed the responsibility for anti-Semitism on the state of Israel.

Earlier this week, the BBC One show "The Big Questions" posted an odd question on its Twitter page: "Is the time coming to lay the Holocaust to rest?"

The timing of the question was particularly shocking in the wake of growing levels of anti-Semitism in Europe, the recent terror attacks in Paris and the ongoing fear felt by Jews in Europe. Last week, a study found that a quarter of young British Jews believe another Holocaust will take place during their lifetime.

Naturally, Twitter was ablaze with controversy following the BBC's question, with many responding taking an understandably hostile tone. It also led to a debate about the Holocaust being a unique event in history, and how we could learn from the tragic events of the past today.

Daniel Koren contributed to this report.