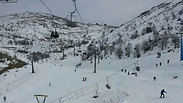 Hermon ski site after evacuation
Guest houses and hotels in Israel's north were inundated with calls on Thursday by people cancelling their reservations, a day after a Hezbollah attack left two IDF soldiers dead.

At the Mount Hermon ski resort, which has suffered large financial losses in recent years because of a lack of snow, employees expressed frustration about the security situation.

"After many years in which there was barely any snow here, we finally got a good blast of snow, with more forecasted, and suddenly everything stopped," said a staff member.

The ski resort is the main tourist draw in the north during the winter months. Visitors at bed and breakfasts and other attractions often arrive because they are visiting the Hermon.

"Since the targeted killing of Jihad Mughniyeh, there has been a significant drop in tourism in the north in general, as well as the Hermon," said the resort's managers. "There were cancellations by groups, cancellations by students, and others.

"People did not want to take any chances. Even the number of skiers has gone down. On Tuesday, after the two rockets fell, we were forced to evacuate the resort in the middle of the day. In the evening there were discussions with the military and they allowed us to reopen the site on Wednesday. But then there was the attack on Mount Dov, and we had to evacuate everyone again."

According to the resort's managers, the damage to tourism in the Galilee, the Golan Heights, and the Hermon will amount to a loss of millions of shekels. "Even if the coming days are quiet, it will take time until tourism returns to normal."

The managers said there had so far been no discussions about compensation for visitors who had to evacuate. "There were some people who wanted a refund, but at this point we're not dealing with that, as we are not dealing with calculating our financial losses," they said.

Guest houses and bed and breakfasts took a financial hit as well. "From the moment the incident at Mount Dov began, a wave of cancellations broke out that was unstoppable," said Reuven Weinberg, owner of the Alaska Inn in Metula. "People are cancelling reservations for February and March as well."

Frida Miles, who manages eight suites in Neve Ativ, said six reservations had been cancelled by Wednesday morning. "I suppose that the other two suites will be cancelled soon too. I don't know what's going on in other bed and breakfasts in town, but I'm guessing that there are cancellations everywhere. I understand those who cancel and don't take a cancellation fee."

Miles has stayed optimistic, hoping that things will calm down soon. "We are in the middle of the high season. There is snow, there is movement, but now it's different. It's sad and frustrating, but what worries me more is the condition of the soldiers," she said.

At Kibbutz Ortal in the Golan Heights, which has 42 guest rooms and ten cabins, calls to cancel reservationss began flooding in on Tuesday morning.

"Already at the beginning of the week there were some people calling to see what the situation was like, but after the invident at Mount Dov a wave of cancellations began," said Eti, the person responsible for the guest rooms.

"People cancelled their reservations for the upcoming weekend, but there were also people asking to cancel reservations for the next two weeks. I understand them because it's not a simple situation. People are afraid to come.

"We aren't charging a cancellation fee, but are keeping in touch with those who have reservations for the next few weeks because they might come after all. We're hoping for the best."

Roee Bergman contributed to this report.