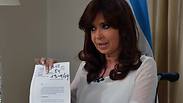 President Cristina Fernandez Kirchner
Photo: AFP PHOTO/ PRESIDENCIA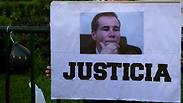 "Justice for Nisman"
Photo: AFP
President Cristina Fernandez Kirchner has portrayed Argentina's spy agency as sinister, accountable to no one, and possibly responsible for the mysterious death of a prominent prosecutor in his Buenos Aires apartment.

As a result, Fernandez Kirchner declared this week, the Intelligence Secretariat needs to be totally shut down - and a new agency built from scratch: "You can't extort me. You can't intimidate me. I'm not afraid of you," she said, speaking directly to the agency's leaders, in a nationally televised address on Monday.



But the underlying story of the dispute, sources close to both the agency and Fernandez Kirchner's leftist government tell Reuters, is more complicated, with roots in Iran and a terrorist attack two decades ago that has never been fully solved.

They say Fernandez Kirchner has been in open conflict with her own spy agency for two years, following a deal in which she enlisted Iran's help to investigate the 1994 bombing of a Jewish community center in Buenos Aires that killed 85 people.

Related stories:

Fernandez Kirchner has portrayed the agreement as the only way to confirm whether Iran's government was behind the attack, as Argentine prosecutors have alleged.

Without Tehran's cooperation, the investigation would have remained stalled and it would have been impossible to question Iranian suspects, Fernandez Kirchner has said.

Iran has vigorously denied any role in the bombing.



However, some of the spy agency's leaders felt betrayed by the deal, a source with knowledge of the agency's affairs said on condition of anonymity. They had spent many years helping prosecutors build the case against Iran, and saw Fernandez Kirchner's agreement as an attempt to whitewash their investigation.

"It was like she switched sides ... and was suddenly friends with Iran," the source said. "That's what this (dispute) is all about."

A government official confirmed the Iran deal was the origin of the conflict, which he described as a grave threat to Fernandez Kirchner. "When (the spy agency) stops supporting you, you're screwed," the official said.

Repeated efforts to contact the Intelligence Secretariat, or SI, were unsuccessful. No one answered a doorbell this week at the mirrored entrance to its headquarters in a stately building across the street from Fernandez Kirchner's palace in Buenos Aires.

 
Argentines horrified
The conflict exploded into public view on Jan. 18, when Alberto Nisman, the chief prosecutor investigating the 1994 bombing of the Argentine Israelite Mutual Association, or AMIA, was found dead in his bathroom with a bullet in his head.

Nisman had been due the next day to present new findings to Congress regarding Fernandez Kirchner's deal with Iran.

His death horrified many Argentines, as well as Jewish groups around the world, denting Fernandez Kirchner's popularity at a time when she is already dealing with an economy on the verge of recession and a long-running battle with foreign creditors over defaulted debt.

Fernandez Kirchner has said she believes Nisman was murdered, although she has not detailed how, and no one has been arrested in connection with the case. Officials admit privately the truth may never be known.

Meanwhile, the depth and complexity of her dispute with the spy agency suggests the case could drag on for months or longer, with unpredictable consequences for all parties.

"This will go on and on and on, and we won't stop asking questions, no matter who is involved," Patricia Bullrich, an opposition legislator who was Nisman's main contact in Congress, said in an interview.

"The roots are very deep."
Dirty war
The SI and its 3,000 or so employees report, in theory, to the president. But in practice, it has long operated in a murky world of its own, critics say.

The agency played an important role in the military government's "dirty war" against suspected leftists in the 1970s. As many as 30,000 died at the hands of the state during the dictatorship, human rights groups say.

Many of the agency's junior officers then are its leaders now, according to Gerardo Young, a journalist who wrote a book titled "The Secret Argentina" on the intelligence community.

Today, the agency still enjoys "unacceptable autonomy" and has continued to spy on politicians, leaders of social movements and others in recent years while resisting attempts at greater oversight, according to a recent report by the Association for Civil Law, a local non-profit group.

Nonetheless, Fernandez Kirchner once believed she could use the SI in constructive fashion.

When her late husband Nestor Kirchner became president in 2003, he ordered the agency to help prosecutors uncover who bombed the Argentine Israelite Mutual Association, or AMIA, the worst attack on a Jewish institution since World War Two.

The collaboration produced results. With the SI's help, Nisman published a report in 2006 saying Hezbollah agents had carried out the attack with financial and logistical support from Iran.

Nisman cited witness testimony, information from wire taps and the bank records of Iranians, and a photo that allegedly showed a then-official at the Iranian embassy in Buenos Aires looking for the kind of truck eventually used in the bombing.

In 2007, at Argentina's request, Interpol put five Iranians and a Lebanese national on its most-wanted list in connection with the bombing. Many in Argentina's Jewish community, Latin America's largest, believed that justice was finally at hand.

"It seemed like the government was finally on our side," said Eliana Hoel, 43, at an event to commemorate AMIA victims this week. "There was so much hope in those years."
'They needed him dead'
And then, on January 27, 2013 - International Holocaust Remembrance Day - an unexpected announcement changed everything.

Fernandez Kirchner, who by then had replaced her husband as president, said Argentina had signed a deal with Iran to create a joint "truth commission" made up of five independent judges from third-party countries to investigate the AMIA bombing.

Why she did so remains disputed.

Fernandez Kirchner has said that, because of Argentine laws that forbid trying suspects in absentia, and Iranian laws that block extradition, the agreement was the only feasible way that Iranian suspects might ever be questioned in the case.

Yet many Jewish groups and others believed the deal signaled the end of Argentina's willingness to pursue the AMIA case. The American Jewish Committee compared it to "asking Nazi Germany to help establish the facts of Kristallnacht."

The agreement coincided with a major diplomatic push by Iran in search of South American allies, at a time when it was locked in a confrontation with Europe and the United States over its nuclear program. Leftist governments in Brazil and Venezuela also expanded trade and other ties with Iran.

In practice, the truth commission was never implemented, because an Argentine court ruled it unconstitutional - but SI leaders remained furious, the source close to the agency said.

In a report published days before his death, Nisman accused Fernandez Kirchner of cutting the deal in the hope of pleasing Iran and receiving its oil, which he said would be a valuable lifeline at a time of increasing economic trouble for Argentina.

Fernandez Kirchner has called that allegation absurd, and publicly accused rogue SI agents of planting false information that Nisman then used in his report.

In a Jan. 22 letter posted on her Facebook page, Fernandez Kirchner suggested that after using Nisman to embarrass her, the spies arranged for his death.

"They used him alive and then they needed him dead. It's just that sad and terrible," she wrote.

The government official that spoke to Reuters said the SI's leaders were also lashing out at Fernandez Kirchner because they were loyal to U.S. and Israeli intelligence.

Some observers believe the confrontation with the spy agency is a red herring - and that Nisman died for other reasons. Despite Fernandez Kirchner's public accusations, none of the SI's leaders or agents are known to have been detained so far.

Crime scene investigators still have not ruled out suicide, and other theories abound.

But Bullrich, the opposition legislator, said that in a case with so few iron-clad facts, the intrigue over Iran is, at least, a place to start.

"You had agents who were in conflict with the president. That is very serious," she said. "We'll pursue that. We don't know where it will lead.