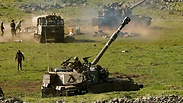 IDF bombs southern Lebanon
Photo: EPA
Lebanon will lodge a complaint with the United Nations against Israel over recent IDF border shelling in response to a deadly Hezbollah ambush that killed 2 soldiers, Lebanese paper The Daily Star reported on Friday.

Two IDF soldiers were killed and seven others were wounded in the Wednesday attack, when Hezbollah launched an anti-tank missile at an IDF convoy traveling near the Israe-Lebanon border. The IDF responded to the attack with heavy artillery fire, which killed a Spanish UNIFIL peacekeeper.




Meanwhile, Lebanon's Information Minister Ramzi Joreige was quick to distance his government's position from Hezbollah's actions.

"What Hezbollah declares and acts only represents itself as a political party that has a special status, but it does not represent the Lebanese government, which uses consensus as a decision-making method," Joreige was quoted as saying in Saudi newspaper Okaz.

"What happened in Shebaa Farms ... makes me worried, but not scared," Joreige was quoted as saying, pointing to the "international umbrella that protects Lebanon from the repercussions of any war."