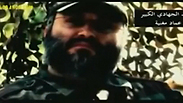 The targeted killing in 2008 of Imad Mughniyeh, Hezbollah's international operations chief, was carried out by Mossad in cooperation the CIA, according to a report published Saturday by the Washington Post.

A CIA team watched as Mughniyeh left a Damascus restaurant at night and walked towards a parked SUV, said the report. Mossad agents in Tel Aviv then remotely detonated a bomb hidden inside the vehicle, killing Mughniyeh.

The United States' intelligence service was closely involved in the planning of the killing, a former intelligence official told the Post. He said the US helped build the bomb and tested it several times to ensure limited collateral damage.

The United States has never admitted to taking part in the targeted killing, but five former intelligence officials confirmed its involvement to the newspaper in the report, which was published two weeks after the targeted killing of Mughniyeh's son Jihad, allegedly by Israel.

'

President George W. Bush, the attorney general, the director of national intelligence, the national security adviser and the Office of Legal Counsel at the Justice Department all approved the operation, said the report.

The CIA had known where Mughniyeh was living for at least a year before he was killed, and it was Israel who broached the subject of a joint operation, according to the newspaper.

An official told the Post that the Israelis insisted on detonating the bomb as "revenge" against the senior Hezbollah member.

The report added that a suggestion by Mossad to attach an explosive device to a bicycle or motorcycle was rejected.

The two intelligence services also had an opportunity to kill Qassem Soleimani, chief of Iran's elite Quds Force, as he walked with Mughniyeh, the Post revealed – but lacking presidential authorization, they could not do so legally.

A former official told the Post that US representatives had casually mentioned the possibility of killing Mughniyeh in a Joint Special Operations Command (JSOC) meeting in 2002 , but that the plan for a commando-style raid "never went anywhere".

The newspaper quoted Amos Yadlin, former head of Israeli military intelligence, as saying that Mughniyeh "was the agent of the Iranians."

The Post provided a litany of terror attacks reportedly connected to Mughniyeh, including among other deadly attacks the 1983 Beirut barracks bombing that killed 241 American servicemen, the bombing of the US embassy in Beirut that same year, the bombing of the Israeli embassy in Argentina in 1992, and the 1994 bombing of a Jewish community center in Buenos Aires.

Officials speaking to the newspaper said Mughniyeh was arming and training Shiite militias in Iraq targeting US forces, which provided a rationale of self-defense for the targeted killing.