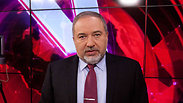 Foreign Minister Lieberman
Photo: Ido Erez
"A fourth operation in the Gaza Strip is inevitable, just as a third Lebanon war is inevitable" because of indecisiveness in Israel's response to the Hezbollah attack in Mt. Dov, Foreign Minister Avigdor Lieberman told Ynet on Sunday morning.
The foreign minister said Israel's deterrence has been compromised following the Hezbollah attack last week that left two IDF soldiers dead and 7 others wounded, and what he considered to be an insufficient response from Israel.
Foreign Minister Lieberman talks to Ynet (צילום: אסי בגל וניצן דרור)
"Don't let them tell us stories about how Hamas is begging and they're on their knees. We saw 10 rockets being fired at the sea last week. We see every week how they're rebuilding (their arsenal)," he said.
"There's no doubt the rules of the game have been change, what Hezbollah forced upon us. We don't respond, but rather decide to contain this incident. I think that's completely unreasonable. Hezbollah is bolder, more determined, more provocative. This is a precedent that everyone's following, they're following our response or lack thereof," Lieberman went on to say.
Turning to the upcoming March 17 elections, the Yisrael Beyenu leader asserted that when it comes to decision making, "it doesn't matter if it's Buji (Isaac Herzog) or Bibi (Benjamin Netanyahu): On the one hand populism, on the other naivety." Neither, he said, had the "deep understanding and determination to take decisive action."
He went on to claim that "only Yisrael Beyenu knows how to take decisive action. The rest are moving between populism and naivety ... a strategic breakthrough will only be reached by Yisrael Beytenu."
Lieberman also stressed his party will not sit in a "left-wing government."
"We won't be partners to a left-wing government, we never were. We always clearly defined what we're capable of and what we're not capable of. We never zigzaged and never led anyone astray," he said. "At the moment there are two realistic options - a right wing government, or a unity government led by the right."