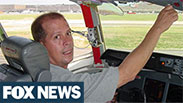 US defense contractor Christopher Cramer, 50, was found dead on January 15 in Saudi Arabia, and while authorities claim he committed suicide by jumping off the third floor of his hotel in Tabuk, his family is sure he was murdered, saying it did not make sense for him to take his own life.

Cramer works for Kollsman Inc., a subcontractor of Israel-based defense electronics company Elbit Systems. He was providing technical assistance for a demonstration and sale of a TOW anti-armor missile system.

His family believes he was murdered because he posed a threat to a lucrative arms deal.

"The problem was with the customer. The missile system was already sold to the Saudi company and they were complaining that it wasn't working. He was basically sent to see if he could prove that they were firing it incorrectly," Noah Mandell, a long-time friend of Cramer, told Fox News.

Mandell, who also serves as the family's attorney, told Fox News he believes the TOW anti-armor missile system was sabotaged before Cramer even arrived in Saudi Arabia. A spokesman for Kollsman Inc., however, said Cramer's demonstrations "went without a hitch. Everything was operating and fully functional. Chris had even posted a video of one of the missile firings."

Mandell told Fox News that the company that purchased the TOW missiles wanted the equipment to malfunction so it could get some of its money back.

Mandell said he received messages from Cramer, saying he was in danger and asking Mandell to contact the US State Department. When Cramer could not reach Mandell, he texted another friend saying: "I'm at the Marakim tabuk hotel in Saudi. I think something bad is going to happen to me tonight. Please contact state dept ASAP. Bad things were said."

Cramer's family is now waiting for his body to arrive back on US soil for an autopsy, but the retrieval of Cramer's body is being delayed at present.

Elbit Systems said in response: "We received a message from Kollsman Inc., Elbit Systems' subcontractor in America, saying its employee Chris Cramer passed away during a work trip. The circumstances of his death are being investigated by the American State Department. We have no further details at this stage and we are waiting for the State Department to update our American subcontractor. Cramer worked for the company for 12 years. We cannot provide details on the project he was working on, but this is a Kollsman product, an American product with no Israeli technologies involved in its production."