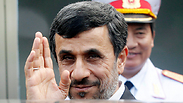 Iran's former President Mahmoud Ahmadinejad
Photo: Reuters
Iran's former President Mahmoud Ahmadinejad has launched a website ahead of parliamentary elections next year in a sign he may be eyeing a political comeback despite a recent corruption scandal.

The website, ahmadinejad.ir, was launched Sunday with a big smiling photo of Ahmadinejad and the slogan: "We will come soon."

Ahmadinejad effectively disappeared from Iran's political landscape after his second term ended in 2013. The hard-line leader's eight-year rule was marked by hostility towards the West and inflammatory rhetoric calling for the destruction of Israel and casting doubt on the Holocaust.

His reputation - even among hard-liners - took a hit earlier this month after his former senior vice president was sentenced to five years in jail and ordered to pay a $300,000 fine for corruption.