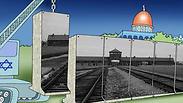 The cartoons will be displayed in a Tehran museum
An Iranian cultural center announced a plan to hold a competition for Holocaust denial cartoons, in response to the massacre targeting the Charlie Hebdo magazine after it published cartoons depicting the Prophet Mohammed.

Iran's House of Cartoon and the Sarcheshmeh Cultural Complex organized the competition, according to the Independent, and invited participants to submit satirical drawings on the subject of Holocaust denial by the beginning of April. The competition announced a $12,000 prize for the winner, with prizes of $8,000 and $5,000 for second and third place, respectively.

Masud Shojaei-Tabatabaii, the organizer of the competition, said the cartoons would be displayed at the Palestine Museum of Contemporary Art in Tehran before being shown in other parts of the capital.

The competition is the second of its kind in Iran. In 2006, Hamshahiri, the country's most popular newspaper, announced a search for the "cleverest" cartoons satirizing the genocide of Europe's Jews. The newspaper said the competition was a reaction to the "double standard" in the West about freedom of expression.

The winner of the first competition, Abdellah Derkaoui of Morocco, depicted a crane painted with the Star of David building a wall around the Dome of the Rock; the wall bears an image of the Auschwitz death camp.

Following the publication of Charlie Hebdo's first post-massacre issue, Ayatollah Naser Makarem Shirazi said showing another image of Mohammed "is equivalent to a declaration of war against all Muslims."

Tehran's foreign ministry declared that the new issue was "provoking Muslim sensitivities around then world, and could spark the flame of cruel radicalism." Iranian Foreign Minister Mohammed Javad Zarif said that "if we do not respect one another, it will be very difficult in a world of different views, different cultures and civilizations."