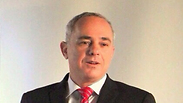 Steinitz at One Voice event
The Likud attacked an election campaign by the V15 movement on Sunday, accusing it of being funded by radical leftwing foundations like One Voice and Molad. But a minister and an MK from the ruling faction have participated in conferences organized by One Voice in the past year.

The chairman of Bayit Yehudi, Naftali Bennett, had also taken part in a One Voice convention, when he addressed a forum with the group's director-general Tal Harris.




Intelligence Minister Yuval Steinitz, who slammed One Voice's campaign in a series of interviews, had previously been invited to speak by the group at a fundraiser in March 2014; Likud MK Gila Gamliel appeared at a conference last November, headlined "Economic Peace."

It should be noted that members of Knesset do not often accept invitations from organizations they consider as representing the radical left, preferring instead a neutral stage or a platform highlighting a multitude of positions.

Economy Minister Bennett participated in a One Voice forum some three years ago.

An official Likud statement released on Saturday claimed that the aforementioned groups were part of a coordinated attempt by Labor and the leftwing to buy their way into power.

Prime Minister Benjamin Netanyahu's attorney, David Shimron, said V15 is funded by American billionaire S. Daniel Abraham and Mexican social entrepreneur Daniel Lubetzky – both of whom are not Israeli citizens – which is against election funding and propaganda laws.

Attorney Shimron also drew a line between Yoel Hasson and Danny Atar, who the Likud claims were board members of OneVoice, and the Zionist Camp on whose list the two are running.

OneVoice, however, categorically denied to the Israeli media on Sunday that either Hasson or Atar had ever been board members in the organization.