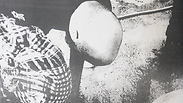 One of the suspects slaughtering a sheep
The Israeli-Arab terror cell charged two weeks ago with attempting to join the Islamic State trained for the fighting in Syria and Iraq by slaughtering sheep. The Haifa District Court on Monday extended the cell members' remand for the duration of the proceedings against them.

The seven suspects from northern Israel turned to reporters present at the court Monday, denying the allegations attributed to them.

According to the indictment, six of the suspects used to meet and plan their trip to Syria to join the Islamic State. During the meetings in the Sakhnin area, the six would argue about whether to support the Islamic State or Jabhat al-Nusra. Eventually, they decide to join the Islamic State in June of 2014.

Later, the six met Adnan Jamil Ala a-Din, a 39-year-old former public defender from Nazareth, who has branded himself the "Islamic State chief of staff in Palestine," whom they contacted via Facebook.

According to the indictment, the members of the cell trained in a farm in Kafr Manda owned by the attorney. They learned how to ride horses and how to prepare Molotov cocktails and purchased sheep to slaughter them as part of their training.

When asked to comment on the indictment filed against him, Attorney Ala a-Din cursed at the reporters.

Another defendant said that "there's no basis to all of the accusations, we have nothing to do with Daesh (Islamic State) or any other organization. I still don't understand why they arrested me."

A third defendant said "it's all lies. I think the arrests were made so Prime Minister Netanyahu's support rate will increase on our expense. We're ahead of elections and he just wants to prove himself. We're sure we didn't support Daesh and all that is attributed to us lacks evidence."

Family members of the accused also responded to the indictment, saying "we're sure they'll be released, they didn't commit any crime."

The defendants' lawyers said they will respond to the indictment after studying it.