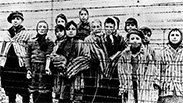 Auschwitz extermination camp
Photo: AP
Oskar Groening, a 93-year-old man dubbed the 'accountant of Auschwitz,' will go on trial in April on allegations he was accessory to 300,000 murders as an SS guard at the Nazis' death camp, a German court said on Monday. The trial will open on April 21.

Groening has openly talked about his time as a guard and says he witnessed atrocities but didn't commit any himself.

He's one of some 30 former Auschwitz guards against whom federal investigators in 2013 recommended that state prosecutors pursue charges.

Groening is accused of helping the Nazis economically, and supporting mass killings by processing the belongings stolen from camp victims.

More than 50 Holocaust survivors or victims' families have joined the case as co-plaintiffs and many are expected to attend the trial.