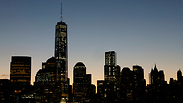 Seconds after the blast hit downtown Jerusalem, Jamie Sokolow lay on the ground, her right eye damaged by shrapnel and her face feeling as though someone had set it aflame. "I thought, 'I'm 12 years old, I'm from New York, and I'm going to die,'" she testified in Manhattan federal court on Monday, at times breaking down in tears.

The Sokolow family is the lead plaintiff in a civil trial against the Palestine Liberation Organization and the Palestinian Authority that will decide whether the groups should pay up to $3 billion for allegedly providing support for six attacks in the Jerusalem area between 2002 and 2004.

The attacks killed 33 and wounded more than 450, including the January 2002 bombing that injured Jamie Sokolow, her sister Lauren, her mother Rena and her father Mark, all of whom testified on Monday.

Kent Yalowitz, a lawyer for the plaintiffs, has told jurors that Palestinian leaders approved payments they knew would contribute to attacks.

Defense lawyers have argued the Palestinian government should not be held liable for the crimes of a few militants who acted on their own or at the behest of more radical organizations such as Hamas.

The plaintiffs are seeking triple damages under the US Anti-Terrorism Act that would bring total liability to $3 billion. Any award would likely be subject to appeal.

Mark Sokolow, a partner at the law firm Arnold & Porter, is no stranger to close calls. He worked in the World Trade Center in Manhattan on September 11, 2001, and fled after the first of two airplanes slammed into the twin towers.

In Jerusalem, the family was visiting his oldest daughter, Elana, who was studying abroad. He had planned to leave his other daughters behind for safety, he said, but the September 11 attacks convinced him that "terrorism could happen anywhere."

Rena Sokolow, his wife, said the attack broke her leg, leaving the bone exposed.

A few feet away, she said, she saw a woman's severed head. Her daughter Jamie lay nearby, although the blood on her face made her virtually unrecognizable. "I said, 'It'll be okay,'" she tearfully told the jurors.

The trial, which began January 13, is expected to last another few weeks.

Last September, a federal jury in Brooklyn found Arab Bank Plc liable under the anti-terrorism law for providing support to Hamas. A damages trial is scheduled for May 18.