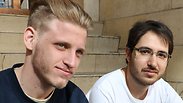 Weizman and Dweck. 'Right-wing parties that exist on American donations are preaching to us.'
Photo: Shaul Golan
When Itamar Weizman and Nimrod Dweck embarked on their V15 project, they never imagined – not even in their wildest dreams – that the best PR work for their campaign would be done in fact by Likud members, the very people they seek to oust.
In the two days since the prime minister and his emissaries launched their attack on the organization, crying election corruption, hundreds of new volunteers have joined V15 and there's no one now in Israel who isn't familiar with Weizman and Dweck and their aspirations – to affect a regime change.
Weizman, 22, a graduate student in history, and Dweck, 33, a former rapper and band manager and today the CEO of an online marketing company, have all of a sudden become the stars of the Likud's and Bayit Yehudi's election campaigns.
They've been accused of receiving funding from US President Barack Obama and various countries in Europe, of working secretly for Isaac Herzog and Tzipi Livni, of being anti-Zionists, of breaking the law, and of using monies from wealthy donors abroad to feed their campaign. It's their turn now to respond to the charges. Apart from the item last, they say, it's all a lie.
'I've never voted Labor'
V15's story began some two months ago, after Weizmann posted a lengthy Facebook status in which he analyzes the results of the previous elections in 2013 and calls for action to ensure a victory in 2015. Dweck stumbled upon the post, picked up the telephone, and the two launched their campaign just three days later, at an event attended by former Shin Bet security service chief Yuval Diskin.

"I laid out NIS 800 for shirts, and Dweck spent NIS 700 on pins, and we hit the road," Weizmann says.

Alon Kastiel, who also read Weizman's post, offered a location in south Tel Aviv for the launch, and V15 continues to operate from there today.

"Our initial plan was to do it at all at Nimrod's office because we thought we'd get 30 people," Weizman says. "In actual fact, 330 showed up. And together, we started to establish a professional, innovative, cool movement, with professional work teams."

And you had no ties to the Labor Party?

Weizman: "I've never voted for the Labor Party, and I have no ties with it."

Dweck: "I, too, have no ties with that party."

You're said to be from Meretz, that you worked with them until not too long ago.

Dweck: "I'm a professional, I work with whoever pays me. I've also worked with Hadag Nahash, Ivri Lider, Shalom Hanoch, the sports channels, the Conservative Movement, with Be Free Israel. Yes, I worked with Meretz too. I started there in 2012, to make changes to their digital campaign. My business ties with them ended in December."

Weizman: "It's a stupid accusation. It's like saying Bezeq provides services to Hanin Zoabi and also provides services to Avigdor Lieberman, so there must be a connection between Lieberman and Hanin Zoabi. It's entirely a professional matter."

Related articles:

Nevertheless, haven't your activists come from the ranks of the Zionist Camp?

Weizman: "Our launch took place December 11, before the establishment of the Zionist Camp and before there was a real chance for regime change. The launch convention was attended by activists from Labor, Meretz, Hadash, Yesh Atid, (Moshe) Kahlon's people, and also Kadima members or simply disappointed Likudniks, representatives from environmental groups alongside peace activists and unionists. All the volunteers who showed up then are still with us today, from all the parties."

The second and more-problematic stage of V15's activities, and the one on which the right-wing attack is most focused, involved the tie-up with OneVoice, an organization that received funding in the past from the U.S. administration for a co-existence project. OneVoice received the money after winning a tender held following the resumption of talks between Israel and the Palestinians.

"After the launch convention, we were approached by various private Israeli businesspeople who offered aid in non-monetary form because we weren't able to receive money at that stage," Dweck relates.

"I had been thinking about a crowdfunding project on Headstart, but the CEO of OneVoice contacted us, told us she liked our idea, and they were the ones who hooked us up with the major contributors."

And they are?

Dweck: "S. Daniel Abraham and Daniel Lubetzky, both rich Jews who love Israel, give us 95 percent of the funding. We got a little more from Israelis like Alon Kastiel and Uri Weiss. After the attack on us, in fact, many Israelis approached us and asked to contribute."

Weizman: "It's simply ridiculous for the right-wing parties or organizations that exist solely on donations from wealthy Americans, some of them a little shady, to be preaching to us about funding from American Jews."

Doesn't OneVoice itself also help with the funding?

Weizman: "They are the ones who helped us find donors, but the bank accounts are separate. We didn't get any money from the New Israel Fund or the Muslims in England."
'You're very cute'
According to Dweck and Weizman, the sum total of the donations received by V15 comes to just over one million shekels, not even enough for a street campaign.

"Fortunately, the Likud did a great PR job for us and saved us money," Weizman says, clearly amused.

V15's ties with OneVoice also led to a connection with 270 Strategies, giving rise to claims by right-wing groups that "Barack Obama is helping to topple the Netanyahu government." Again, Weizman and Dweck deny the charges.

"The people at OneVoice said to us: 'You're very cute, but to get an operation like this off the ground, you need the help of people who've already done it," Dweck says.

"That's how we hooked up with 270 Strategies, which conducts campaigns worldwide and helps grassroots organizations build themselves up. The company's CEO is Jeremy Bird, who worked three years ago with the Obama campaign headquarters, in the same way Netanyahu in the past hired consultants who worked with American presidents. The whole world wants to hire Obama's trump card, and OneVoice worked with him a year and a half ago, so they suggested we do too."

And who paid him?

Weizman: "Our donors."

Do you receive a salary?

Weizman: "We both quit our jobs for the campaign, and we get about a third of what we used to earn, just so that we can at least pay the rent."

V15's campaign mirrors the system that worked for Obama in the US elections – a campaign based entirely on telemarketing and home visits in an effort to convince voters to vote for the right parties, or persuade disgruntled voters to go out and vote nevertheless. All of the organization's volunteers undergo special training and are explicitly instructed not to recommend any specific party.

"We convince them that in order for them to be able to continue living in their apartment, and in order for their children to be able to go to kindergarten without their parents having to take a loan, and in order for them to be able to shop at the supermarket without having to pay in installments for nonsense, they have to change the government," Weizman says.

"It works amazingly," Dweck adds. "People open their doors and a light comes on in their eyes. Suddenly they believe that things here could be different."

You're being accused of serving the interests of the Zionist Camp only.

Weizman: "That's a lie. We've been telling the truth, the whole truth, from the very beginning. We've said where the money comes from; we even took it upon ourselves to approach the state comptroller even before the Likud started with its campaign; and we also openly state that our goal is to replace the existing regime, not only Netanyahu. I love this country; I've given it a lot; and I want to give people the belief and the hope in a different way."

In other words, you don't care if people vote for Kahlon or Yair Lapid's Yesh Atid?

Weizman: "We don't have any problem with that, and we have activists from those parties working with us too. As far as we're concerned, all the parties from Kahlon and to the left fit this vision."

Dweck: "We made it clear from the start that we will do everything only by the book. We believe in the rule of law. It kills me when people say it's a plot, and that we, a guy of 22 and a nerd of 33, are the plot. I saw that someone wrote that the American came to us with boxes of money. Where are those boxes, mate? Bring them! We need every shekel. If we had money, our activities would be far more extensive. We are thirsty for any donation."

Weizman: "I heard people on the right calling us traitors. We, who have given everything to this country, we're traitors?"