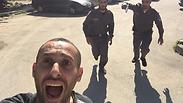 A fake selfie showing Palestinian being chased by IDF forces went viral on Twitter Tuesday. The selfie, which was staged and does not depict real IDF soldiers, was taken by Palestinian rap group DAM and shared by unwitting internet users who took it to be real.

According to Buzzfeed, an associate of the DAM rap group confirmed that the photo was staged but did not want to be quoted on record because he and his band mates have enjoyed watching the reaction to the picture online.
A selfie while the Israeli military running after me. pic.twitter.com/bdgO7xURd2

— DAM (@DAMRAP) February 2, 2015
When closely examined, there are several hints the picture is a fake – from the sneakers the two "IDF soldiers" are wearing (not part of official IDF uniforms) to the posing of the two soldiers.
However, for those unfamiliar with the IDF, the picture seemed real and it was shared on the internet as an act of defiance by the Palestinian man.
This man's got balls of steel! "@DAMRAP: A selfie while the Israeli military running after me. pic.twitter.com/0rOhLdveGQ" #Israel #Palestine

— Wais (@WaisBashir) February 2, 2015
The three people in the photo are DAM members Tamar Nafar, Suhell Nafar and Mahmoud Jreri, according to Buzfeed.

According to the group's website, DAM is the first Palestinian hip hop group, it was formed in the '90s after the three Palestinian men were struck by the resemblance of the reality of the streets in a Tupac video that look similar to the streets in their neighborhood of Lyd.

One of their best hits is a song called "Min Irhabi" ("Who's the terrorist) and was downloaded over a million times after its internet release in 2001. Rolling Stone in France distributed the song for free in one of their issues, according to the DAM website.