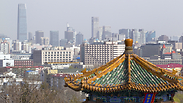 Beijing, China
Photo: Shutterstock
Israeli companies are increasingly turning to Asia to capture a boom in demand for their technology, as the government urges them to diversify export markets in response to Europe's rising anti-Semitism and potential trade sanctions.

Citing attacks on Jews in Europe – including one in a kosher market in Paris last month – and amid fears that the European Union could take trade steps against Israel over its policy of settlement building on Palestinian land, Prime Minister Benjamin Netanyahu told his cabinet last month: "We definitely want to reduce our dependence on certain markets in western Europe."

At the same time, the pro-Palestinian boycott, divestment and sanctions (BDS) movement has started to make strides in some European countries, prompting several firms in Holland and Denmark to end dealings with some Israeli companies and raising the prospect of more trade problems in the region.




Israeli entrepreneurs – most of whom see Europe remaining as an important partner – downplay the effects of anti-Israel sentiment in Europe. More of a reason to expand to Asia, they say, is that Europe's economy is struggling, the euro has weakened and Asian countries are growing faster.

Either way, the shift to Asia is picking up pace. Israelis have been slow to follow European and US firms into Asia because the region's languages and culture have presented more significant problems – particularly the requirement for patient diplomacy in many Asian countries, say Israeli businessmen, known for their often abrasive manner.

Nonetheless: "Those making the efforts are being amply rewarded," said Jon Medved, a veteran Israeli venture capitalist.

Ofer Sachs, chief executive of the Israel Export and International Cooperation Institute, noted: "When you look towards the future, the growth potential that exists in China, Vietnam and (the rest of) Asia is greater than in Europe."
Multiply tenfold
Europe is currently Israel's largest overall trading partner. Asia is its second-biggest partner but business, particularly to China and India, is much smaller: Israel's economy ministry estimates that of 3,000 Israeli exporters, about 1,000 trade with Asia.

While government data shows that Asia takes 25 percent of all exports – just below the 27 percent that goes to each of Europe and the United States – roughly half that is mainly from just two companies: Intel's (INTC.O) Israel unit and potash producer Israel Chemicals (ICL.TA).

Economy Minister Naftali Bennett said Israel wanted to multiply its commerce to Asia "tenfold."

"Israel has made a strategic decision to diversify its commerce so we're moving to the East. I'm talking about China, Japan, India… and it's working, it's going very well," he told Reuters.

Avner Halperin, chief executive of medical device firm EarlySense whose sales to Asia currently comprise 15 percent, initially looked to the United States and Europe to drive his high-tech company's sales. Now much of his focus is on Asian economies.

"That percentage to the Asian market will go to at least a third and may go to as much as half of our sales by 2016," Halperin said. "You can't ignore the East because there are huge opportunities with people very open and ready to work with us."
Investment potential
Asian companies and funds – particularly from China – are also seeing more investment potential in Israel.

China, Israel's third-largest trading partner by country, is looking at an expansion in bilateral trade, which reached nearly $9 billion last year.

"Israel leads the world in high-tech and high-tech is needed in China," Wu Bin, economic and commercial counselor at China's embassy in Israel, told a recent conference in Tel Aviv.

"Israeli technology can easily get industrialized in China."

On Monday, Chinese management consulting firm Shengjing, teamed up with Jerusalem Venture Partners, one of Israel's leading venture capital fund, in a competition to find global start-ups.

"In the next 10 years Israeli high-tech will have a significant Chinese component... and China can become a significant player in the Israeli economy," said Nechemia Peres, co-founder of Pitango Venture Capital.

Korean giant Samsung has made two investments in Israel – including Halperin's EarlySense – so far in 2015 in addition to numerous investments last year. It also has two R&D centers in Israel.

New Israeli companies, industry executives say, have an edge over their American and European peers in expanding in Asia because they have a limited domestic market and must think internationally from the outset.

"When we do business, we have to take a flight, so it can be east or west," said Peres.