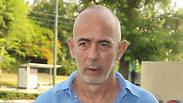 Eyal Arad
Photo: Yaron Brener
Israel's leading political strategist Eyal Arad has hit back at accusations by the Likud that he was involved in breaking election funding law by accepting donations from abroad, saying Prime Minister Benjamin Netanyahu had previously offered him a position funded by a foreign businessman.

The Likud party petitioned to the Central Elections Committee earlier this week seeking an injunction against the "left-wing NGOs" OneVoice, Molad and V15, alleging that they were using foreign funds to help the Zionist Camp's campaign to replace the government, claiming that this was a violation of the law. The Likud tied Arad to these NGOs.

In response to the Likud's accusations, Arad sent a letter to the Central Elections Committee on Tuesday, saying that it was "strange that the one smearing me in this manner and making claims about foreign funding from 'unknown sources' is Netanyahu."

Arad wrote: "It was Netanyahu who offered me, while I was in his inner circle in 1994, to come back to work for him with full pay that was to be funded by a foreign and unnamed businessman - on condition that I spoke to no one about it so we did not get in trouble. Meaning - an illegal proposal that I rejected with contempt."

Related articles:

Arad said he would have kept mum about the proposal if he had not been targeted by the Likud.

"I would not have revealed this, had they not raised these indecent accusations against me. I've never opened my mouth about the time I worked for Netanyahu, even though I saw all sorts of interesting things. I thought it was unethical and wrong, because when you're working for someone you see his secrets and you don't reveal them."

Arad completely rejected all of the Likud's allegations against him, explaining he has a right to take part in political activity as long as it is not affiliated with any faction.

"According to the Likud, its messengers and its leader, it's enough for a citizen to fail to show undying love to the great leader in order to take away his constitutional rights, as they do in North Korea or even Iran," Arad wrote. "Netanyahu's outrage at the fact there are those who don't love him cannot be used as a rationale in this debate."

The Likud said in response: "Eyal Arad is frightened of the exposure of the illegal campaign he's leading in an attempt to overthrow the Likud and Netanyahu. This campaign uses millions of dollars from left-wing sources in the United States and Europe given to radical left-wing NGOs in Israel - all of which is against the elections funding and propaganda laws. We believe this clarifies why 'all of a sudden' Arad remembered one of Sheherezade's tales from 1994, which never happened."

Arad has played a major role in a series of election campaigns in Israel, across the political spectrum. His previous clients include Ariel Sharon, Ehud Olmert, Shimon Peres, Nir Barkat, Tzipi Livni - and Benjamin Netanyahu.