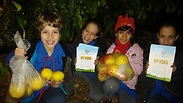 In honor of Tu B'Shvat, the Jewish holiday that marks the beginning of the new year for trees, youth volunteering with Leket Israel are picking excess fruit remaining on trees in people's private gardens to give to the poor.

Over 1,000 children and teens from across Israel including kibbutzim and yishuvim in the Jezreel Valley and from cities like Rehovot, Ra'anana, Kfar Saba, and Givat Shmuel, are participating in the Project Citrus Rescue, or Sayeret Tapuz in Hebrew. The fruit will be collected to be delivered to Leket's 180 partner agencies for distribution to those in need.

Jewish Holiday

Trees have much to teach us about anticipation and patience.

According to Joseph Gitler, Leket Israel's founder and chairman, the initiative, now in its fifth year, was coordinated this year to coincide with the holiday of Tu BiShvat. "We are inviting volunteers to rescue this fruit before it rots in people's yards and are reaching out to private home owners who are interested in donating their excess produce to feed the needy," he said.


"It is a wonderful opportunity to involve the youth in a hands on activity to benefit those less fortunate and to mark Tu BiShvat, the celebration of trees, in a truly meaningful way," Gitler added.

For Sarah Freund, a Ra'anana resident who has opened her garden for Project Citrus Rescue volunteers several times in the past, the initiative is worthwhile for everyone involved. "I contacted Leket Israel and told them about my garden, which is full of fruit trees," Freund told Tazpit.

"There is no way for me to eat all this fruit," said Freund, who has orange, grapefruit, clementine, lemon and kumquat trees in her garden. "The kids are doing a great service by picking all this excess fruit and getting it to others."

In addition, throughout the year, Leket Israel, which serves as Israel's largest food rescue network and the country's National Food Bank, also sends tens of thousands of volunteers and dozens of paid pickers into orchards and fields to salvage tons of surplus produce. The volunteers rescue agricultural crops that are left to rot at the end of each season from hundreds of farms and packing houses around Israel.

In 2014, Leket collected and redistributed free of charge, 20 million pounds of fruits and vegetables to 180 nonprofit organizations serving Israel's needy.