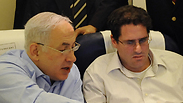 Ambassador Dermer with PM Netanyahu
Photo: GPO
Israel's ambassador to the United States has gotten an earful from a half-dozen House Democrats angered by Prime Minister Benjamin Netanyahu's acceptance of a Republican invitation to address Congress next month.
Ron Dermer met privately with seven Jewish Democrats on Wednesday to discuss Netanyahu's plans for a March 3 speech on Iran, and some of the lawmakers urged the prime minister to postpone the speech or hold it somewhere other than Congress, participants said. They told Dermer that Netanyahu was unwise to accept a Republican invitation that bypassed President Barack Obama
The meeting's purpose was "to try to defuse the optics" of the planned speech to Congress, and to return to substantive issues involving the two nations, said Rep. Steve Israel, a Democrat who hosted the gathering in his House office.
Some attendees suggested a different time or venue for a Netanyahu speech, Israel told reporters, but "we have a while to go before we have to address whether or not he's coming."
Netanyahu's March 3 speech would focus largely on Iran - and its nuclear program - amid delicate negotiations involving the United States, other Western powers and Tehran. Netanyahu's acceptance of Republican House Speaker John Boehner's invitation has infuriated the White House and many congressional Democrats.
Rep. Israel said the problem began when Boehner "decided that Israel would be a political football and he'd spike it in the end zone."
Dermer asked for the Wednesday meeting in hopes of defusing some of the tension, lawmakers said.
Several Jewish House Democrats had met last week during the party's retreat in Philadelphia to discuss what to do about the speech.
"I organized the meeting with Ambassador Dermer, and I invited key congressional Democratic supporters of Israel to attend," Israel said in a statement. "There were a wide range of views that were discussed, but one thing we all agreed on emphatically is that Israel should never be used as a political football."
Last Friday, House Democratic leader Nancy Pelosi was asked if Netanyahu would be well-advised to speak out in favor of heavier sanctions on Iran somewhere other than a joint meeting of Congress. She said "the opportunities are great" and noted that the Israeli leader often appears on Sunday talk shows in the US.
Politico reported on Tuesday that dozens of Democrats in the US House of Representatives have been threatening to skip Netanyahu's address, indicating the possible identity of the congressmen.
"We defer to Democratic members if they'd like to attend or not," a White House aide told Politico. The office of Vice President Joe Biden declined to comment on the matter, the report added.
According to Politico, Rep. Steve Cohen (D-Tenn.) was considering skipping the speech. "I just don't know if it's the proper response or not," Cohen said. "But I just think it's a mistake and it might be a proper protest. But I haven't made that definite decision.
Politico added that while J Street, the leftist Israel advocacy group in the US, has refrained from urging politicians to skip the speech, it sent two mass emails promoting a letter from Cohen and Rep. Keith Ellison (D-Minn.) asking Boehner to reschedule the speech until after the Israeli elections.
"Momentum is on our side — and it's growing," J Street executive director Jeremy Ben-Ami wrote in an email. "Make it clear that Netanyahu's speech shouldn't go forward as planned."
Some Democrats confirmed that they would be present at the speech, said Politico. House Minority Leader Nancy Pelosi (D-Calif.), criticized the decision by House Speaker John Boehner (R-Ohio) to organize the speech without first informing the White House, but according to Politico, her spokesman said she would attend.
Pelosi previously suggested that the speech could potentially interfere with talks over Iran's nuclear program, saying "could send the wrong message in terms of giving diplomacy a chance."
Politico also reported that Sen. Chuck Schumer (D-N.Y.) and Rep. Eliot Engel (D-N.Y.), the ranking Democrat on the House Foreign Relations Committee, said they would be present.