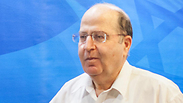 Defense Minister Ya'alon
Photo: Emil Salman
Defense Minister Moshe Ya'alon will visit India on February 17, a first visit by an Israeli defense minister to the South Asian country since the establishment of diplomatic ties between the two states.

Ya'alon is scheduled to hold a series of meetings with Indian officials and visit an arms exhibition in Bangalore.

Israeli sources stressed the importance of the visit, saying it is a breakthrough in security relations between the two countries.

India is perceived as a country of strategic importance and the visit could lead to future security deals between the two countries, which could bring in billions of dollars to the Israeli economy.

Three years ago, in May 2012, then-defense minister Ehud Barak sought to visit India, but met with a polite refusal that explained his visit could anger the Muslims in the country.

But when Indian Prime Minister Narendra Modi came into power in May 2014, he opened a new page in relations between the two countries. His instruction to tighten relations with Israel seeped down to all Indian government branches, following which the decision was made to have Ya'alon for an official visit.

In September 2014, Prime Minister Benjamin Netanyahu met with his counterpart Modi, in a first meeting between the heads of the two states in over a decade. The two agreed on cooperation in several fields, including security, cyber, intelligence and more.

Netanyahu said then that "We are very excited by the prospects of greater and greater ties with India. We think the sky's the limit."

Several months ago, India unfroze a $2.5 billion deal for the purchase of hundreds of Israeli Barak missiles - a deal first signed in 2007 that has since been put on hold over concerns of corruption in India.

The Indian press recently reported that Israel will sell 262 Barak 1 missiles to India over 5 years, starting December 2015. The missiles will be installed in 14 battle ships in the Indian Navy.

Some two years ago, Israel and India signed a deal for the purchase of 15 Heron unmanned aerial vehicles manufactured by the Israel Aerospace Industries Ltd.

In July 2014, the Indian defense minister visited Israel for meetings on possible future weapon deals. Among other things, Israel wants to sell India a defense system like the Iron Dome.