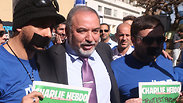 Lieberman outside Independence Hall
Photo: Motti Kimchi
Several Yisrael Beytenu activists arrived at Independence Hall in Tel Aviv on Thursday to protest a ban on the distribution of copies of controversial French satiric magazine Charlie Hebdo.

The Yisrael Beytenu activists set up tables with the magazine - featuring a cartoon of Prophet Muhammad on the cover - on display, but did not hand it out because of the ban imposed by the Central Elections Committee.

Instead, the activists urged passersby to sign a petition against the ban titled "Today a Newspaper, Tomorrow the Anthem."

"We were astounded to learn that the Central Elections Committee acceded to MK Ahmad Tibi's request to stop the distribution of copies of Charlie Hebdo," the petition read. "This is a serious blow to the freedom of expression. It's capitulation to radical Islamic terrorism and its representatives in the Knesset."

Several of the activists sat down on the steps leading to Independence Hall and perused the magazine with duct tape on their mouths in protest of the violation of the freedom of expression.

"I lament that we are forced to try to preserve the freedom of express in the state of Israel in this way," Yisrael Beytenu leader Avigdor Lieberman said.

"The attempt to bar the distribution of this magazine is simply surrender to extortion and intimidation," he added.

Yisrael Beytenu MK Alex Miller said "We came to show we're not surrendering to terror ... I think this decision (to bar the distribution of the magazine) is wrong and I really hope the citizens of the state understand you can't shut our mouth."