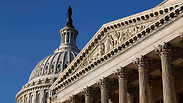 US Congress
Photo: Reuters
US House of Representatives Speaker John Boehner on Thursday defended the invitation to Netanyahu as "a very good idea." He announced the event last month without first consulting the White House, a move many Democrats considered an insult to President Barack Obama, with whom Netanyahu has always had a testy relationship.

"There's a message that the American people need to hear and I think he's the perfect person to deliver it," Boehner said.

"The threat of radical Islamic terrorism is a real threat. The threat of Iran to the region and the rest of the world is a real threat and I believe the American people are interested in hearing this."

Two prominent US House Democrats said Thursday they would skip Prime Minister Benjamin Netanyahu's speech to Congress next month, saying they disapproved of House Speaker John Boehner's decision to invite the Israeli leader without consulting the White House.

Rep. John Lewis, a hero of the civil rights movement, and Rep. G.K. Butterfield, chairman of the Congressional Black Caucus, say Thursday they would not attend Netanyahu's March 3 speech.

Lewis called Boehner's invitation to Netanyahu "an affront" to President Barack Obama and the State Department that he could not ignore. Butterfield said he was "very disappointed that the speaker would cause such a ruckus" among members of Congress.

Both men said their decisions were personal and not part of any organized boycott by the caucus or House Democrats.

Meanwhile, US House Democratic Leader Nancy Pelosi said she was seriously considering going to Benjamin Netanyahu's congressional speech during the Israeli Prime Minister's Washington visit next month but still hoped it does not take place.

"I'm seriously considering going. As of now, it is my intention to go. It is still my hope that the event will not take place. There's serious unease," she told reporters.

Boehner also said Thursday he expects President Barack Obama to seek congressional authorization for using military force against Islamic State soon and also called for speeding up assistance to Jordan.

"I'm expecting that there will be an authorization for the use of military force sent up here in the coming days. And we're going to go through a rigorous set of hearings and continue to discuss it," Boehner, the top House Republican, told reporters.

He added that "it is also going to be incumbent upon the president to go out there and make the case to the American people," as well as help push Congress to pass the authorization.

"There's an awful lot of things already in the pipeline but speeding that process up through the bureaucracy would certainly help the Jordanians in a time of significant need. And I think, frankly, all of Congress would support it," Boehner said.

In the same press conference, Boehner announced that Pope Francis will address a joint meeting of the US House and Senate on Sept. 24, becoming the first pontiff to do so.

It will be his first visit to the United States in a papacy that began two years ago.

"In a time of global upheaval, the Holy Father's message of compassion and human dignity has moved people of all faiths and backgrounds," Boehner said in a written statement released as he spoke to reporters. "His teachings, prayers, and very example bring us back to the blessings of simple things and our obligations to one another."