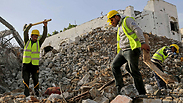 Reconstruction workers in Gaza
Photo: AP
Egypt and Norway urged donors on Thursday, including Gulf states squeezed by low oil prices, to keep promises of providing $5.4 billion in aid for the Palestinians after the devastating war in Gaza last year.

The two nations, who led a donors' conference in Cairo in October when the cash was pledged, wrote an open letter to donors and said people in Gaza were suffering with a slower-than-expected pace of reconstruction.

Egyptian Foreign Minister Sameh Shoukry said the two felt it had become necessary to remind donors who had promised to help rebuild Gaza that they "should fulfill their obligations in this regard."

"No one has said to us that they're not committed to what they have pledged, but also due to oil price and other issues in the Gulf, there has been a bit of a lingering," Norwegian Foreign Minister Boerge Brende told a news conference.

The two ministers, after a meeting of the Organization of Islamic Cooperation in Oslo, did not single out any nations for criticism nor say how much of the $5.4 billion pledged had reached the Palestinians.

Last year, among countries pledging aid, Qatar offered $1 billion, and Kuwait and United Arab Emirates promised $200 million each. The United States pledged $212 million, France 40 million euros ($45 million) and Germany 50 million euros.

"We know that there are houses now being built and reconstructed but the pace of this is not at a level where we had foreseen and where we had wished it, so this is very important," Brende said.

The two ministers said they would follow up with personal contacts with other countries in coming weeks.

"It's not my role here to have a 'name and shame' list, but we do have an overview of this and we will specifically follow up on the countries that have not been able to deliver so far," Brende said.

In Gaza, an estimated 18,000 homes and vital infrastructure were destroyed during the 50-day war between Israel and Hamas.