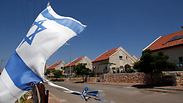 The Ofra settlement in the West Bank
Photo: Reuters
Taxpayer support for an agency fueling the expansion of West Bank settlements rose by more than $100 million last year, making it a top recipient of money being furtively channeled into politicians' pet projects, according to an Associated Press analysis.

The AP examination of national budget figures found that the settlement building unit of the World Zionist Organization received a bigger funding boost last year than nearly any other government-backed project. The figures provide a rare glimpse behind the smoke screen of bureaucracy that finances one of Israel's most controversial practices.



More than 350,000 Israelis live in the West Bank and 200,000 more in East Jerusalem today. The Palestinians want both areas – controlled by Israel since 1967 -- included in a future state, and the international community regularly denounces Israeli expansion of settlements in these areas as illegal.

For nearly half a century, the Zionists' Settlement Division has played a key role in managing land and infrastructure in these bitterly disputed settlements. Although its funding comes entirely from the government, its finances are largely kept secret.

According to 2014 budget figures, public funding for the division increased more than eightfold last year, including a last-minute spending spree advanced by pro-settlement lawmakers just days after the collapse of Israel's previous government.

"Once the country allows this corruption with our public funds, it has no end," said Stav Shaffir, an opposition Labor Party lawmaker who has led a campaign to expose the division's finances.

Shafir and other dovish lawmakers have taken aim at the group and its ballooning budget in hopes of using the issue against Prime Minister Benjamin Netanyahu and his pro-settler partners in Israel's March 17 elections.

Netanyahu's main opponent, Labor leader Isaac Herzog, has vowed to reform the Settlement Division if elected. He says he would redirect funds away from expansion in the West Bank and East Jerusalem and into Israel's weaker northern and southern regions, which are not subject to territorial disputes with Palestinians.

The Settlement Division serves "narrow interests that have gotten on everyone's nerves," Herzog told Channel 2 TV.

On Thursday, a Finance Ministry official said a government task force was investigating the group's funding methods and structure. The official spoke on condition of anonymity because the probe was incomplete.

Calcalist reported that the Justice Ministry soon would recommend the division's closure. Officially, Justice Ministry officials would confirm only that the issue was being investigated.

The division's troubles follow a police raid on the group's offices in December as part of a wide-ranging probe into misappropriation of public funds. Police arrested some leaders of West Bank settlement councils that received Settlement Division funds.

"Why do you think that police searched the Settlement Division offices? Because the corruption is ongoing," Yair Lapid, whom Netanyahu fired as finance minister in December, told supporters.

The World Zionist Organization, an international body founded more than a century ago, promotes Jewish education and immigration to Israel. It serves as an umbrella group for a host of international Jewish groups and youth movements.

After Israel gained control of the West Bank, the Golan Heights and other lands in 1967, the Israeli government began settling Jews in those territories.

It turned to the WZO, which set up the Settlement Division. Because the division is technically not part of the government, it is not required to detail how it spends public funds.

The group's stated aim is to create and support rural communities in the West Bank, Golan Heights and other areas. Its responsibilities include leasing West Bank land to settlements, according to anti-settlement researcher Dror Etkes. It also makes money available to developers of settlements, roads and other infrastructure.

The recent criticism focuses on "budgetary transfers," a process whereby a parliamentary finance committee transfers public funds from one pot to another. The existence of such transfers was published starting in 2012 following protracted criticism of the opaque accounting practice.

Last year, a committee chaired by a pro-settlement lawmaker increased the Settlement Division's funding for 2014 to about $126 million, more than eight times the sum originally budgeted for the group, according to data from the oBudget.org transparency website.

Only three other areas -- environmental matters, emergency preparation for a potential chemical attack, and a financial bailout for a major hospital -- received increases at a higher rate in 2014, the budget data showed.

AP reviews of the data for previous years revealed a similar pattern. In 2013, the Settlement Division's budget grew ninefold over its originally budgeted figure. In 2012, it grew fivefold.

"When every inflated transaction and every shady subsidy are immediately made public on oBudget.org, the public can no longer accept, and the political system can no longer ignore, this twisted budgetary process," said Adam Kariv of the Public Knowledge Workshop, which runs the site.

Some $23.4 million of funding last year to the Settlement Division, about a fifth of the total, was transferred in December in a rapid-fire parliamentary vote. The move came one week after Netanyahu called for new elections, fired Lapid and took over the finance ministry.

Last year, the Settlement Division for the first time published itemized budgets showing how it distributes its money.

The 2014 itemized budget revealed that the Settlement Division distributed much of its money to activists for social causes, including groups that promote Jewish religious activities. Many of these groups were affiliated with the pro-settler Jewish Home political party, according to the leftist Molad think tank.

"The WZO's Settlement Division has become a private slush fund for the settler movement," a Molad report said.

Yaron Ben Ezra, director general of the Settlement Division, said Wednesday the group was closing the department that funds the activist groups because the government had not renewed the department's budget. He denied that the closure was connected to criticism of the Settlement Division.

Questions still arise from the released figures. About $28.7 million is marked "other," with little description about who received the money. And the government does not release a total figure for all settlement activity.

Last year, a parliamentary committee rejected an attempt by centrist and left-leaning lawmakers to subject the Settlement Division to Israel's freedom of information law, which would require it to become more transparent about its funding.

David Rotem, a lawmaker and former Settlement Division lawyer who now chairs that committee, said he voted against the move because he wanted to shield the group from lawsuits that aim to block settlement construction in the West Bank.