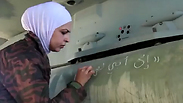 Jordanians inscribing bombs
Hours after Jordanian jets returned home on Thursday after striking Islamic State targets in Syria, local media broadcast a video capturing the operation's commencement, showing Jordanian personnel writing messages to ISIS on the warplanes' bombs.

The outrage on the Jordanian street has been simmering for the past few days – both because of the cruelty of the Islamic State's fighters and a feeling by some of the public that their king had dragged Jordan into an American war that was not in their benefit.

On Thursday night, those feeling spurned received a measure of relief. Footage of the operation which was named after Mouath al-Kasaesbeh – the pilot burned to death by ISIS – and shows Jordanians inscribing bombs with messages to the Islamist radicals.

Jordanian report on bombing of Islamic State targets

"Dedicated from the flight officers to the dogs of Daesh," one wrote on a bomb, referring to the Arabic name for ISIS.

The warplanes are then seeing taking off for the operation to bomb the militants.

Al-Kasaesbeh was captured by ISIS in December after his jet crashed in Syria, where he was operating under the banner of the US-led coalition. The Hashemite kingdom agreed to ISIS' demand to trade the pilot for Sajida al-Rishawi, a prisoner held by Jordan for participating in a terror attack in 2005 – but Daesh did not respond.

Earlier this week, the group released a video showing the high-definition execution of al-Kasaesbeh, in which he was burned alive while locked inside a cage. The execution occurred on January 3, long before the Islamist group presented its demands for his release.

A military statement, read on state TV, was entitled, "This is the beginning and you will get to know the Jordanians" – an apparent warning to ISIS. It said the strikes will continue "until we eliminate them."

Jordan's King Abdullah II was paying a condolence visit to the family of the pilot, Lt. Muath al-Kaseasbeh, in southern Jordan when the fighter jets roared overhead.

The king pointed upward, toward the planes, as he sat next to the pilot's father, Safi al-Kaseasbeh.

Al-Kaseasbeh told the assembled mourners that the planes had returned from strikes over Raqqa, the de facto capital of the militants' self-declared caliphate. His son had been captured near Raqqa when his F-16 went down.