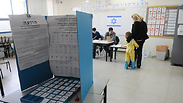 Going to vote on March 17
Photo: Yaron Brener
Forty days ahead of the 2015 elections, the Zionist Camp has a mere one-seat advantage over ruling party Likud, according to a Yedioth Ahronoth poll published on Friday.

The poll, conducted by Dr. Mina Tzemach and the Midgam Institute, found that if elections were held today, the Zionist Camp led by Isaac Herzog and Tzipi Livni would get 25 mandates, while the Likud headed by Prime Minister Benjamin Netanyahu would get 24.

The poll also found that Bayit Yehudi, that has received 18 seats in previous surveys, has dropped to 12 seats - the amount of seats it had in the 19th Knesset. The united Arab list would also receive 12 seats, according to the poll.

Yair Lapid's Yesh Atid party, which scored 19 seats in the 2013 elections, would get 11 seats according to the latest poll - still a recovery from previous surveys over the past month that predicted it would get only 9-10 seats.

Moshe Kahlon's new party Kulanu would get 7 mandates, according to the latest survey.

Meanwhile, Haredi parties Shas and United Torah Judaism (UTJ) are each predicted to get 7 seats, with UTJ maintaining its amount of seats and Shas dropping from 11 in previous polls.

Foreign Minister Avigdor Lieberman's Yisrael Beytenu party, which held 13 seats in the 19th Knesset, is down to 6 seats according to the latest poll.

The last two parties to pass the elections threshold are Meretz with 5 seats - compared to 6 they had in the previous Knesset - and former Shas chairman Eli Yishai's new party Yachad with 4 seats.

According to the poll, the Likud party enjoys more support from men - 20 percent of male respondents said they supported the Likud compared to only 12 percent of female respondents.

In the battle for secular and religious votes, the Zionist Camp enjoys 34 percent support from secular voters - almost four times more than Yesh Atid. Meanwhile, 41 percent of religious voters supported Bayit Yehudi, 17 percent supported the Likud and 11 percent would vote for Eli Yishai's Yachad party.

The Bayit Yehudi is enjoying support from younger voters aged 18-34, while Meretz has more support among 45-54 year olds, but less among those older than 65, the polls reveals.

The poll found there are quite a few undecided voters - 22 percent of women and 15 percent of men declared they have yet to decide who to vote for. The rate of undecided voters is particularly high among young voters aged 18-24 and among those over 55.

In addition, more women are undecided than men - 22 percent of women said they still did not know who to vote for, compared to only 15 percent of men.

If the elections were held today, the voter turnout would be considerably high - 76 percent of Jewish respondents and 67 percent of Arab respondents said they intended to go vote in the poll.

The poll, ordered by Yedioth Ahronoth, was conducted on Wednesday by Dr. Mina Tzemach's Midgam Institute. The poll is based on responses from 700 respondents - a representative sample of the adult population in Israel. The margin of error is between ±1.7 for parties with up to 4 mandates and ±4 for parties with 25 mandates.