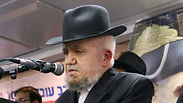 Rabbi Meir Mazuz, the spiritual leader of Eli Yishai's "Yachad - HaAm Itanu" party, ruled that money Jews put aside for charity could be donated to the party's elections campaign. Mazuz explained this was for the sake of heaven - for a higher cause.

This is an unusual ruling for the rabbi, as "tithe" or "tenth" is money meant for charity, for the needy, or to observing mitzvot (commandments or good deeds) - usually to supporting yeshiva students, but not for donations to political parties.

Eli Yishai's "teacher" was asked by one of his followers, a community rabbi from Ramat Gan, whether it was allowed to allocate "tenth" funds - 10 percent of a man's income that according to halacha he must set aside for charity or mitzvot - to the party.

The follower explained the reasoning behind his question, saying Yachad - HaAm Itanu was established for the purpose of encouraging Torah study and observance and thwarting anti-religious legislation by "those who hate God."

In his answer, Rabbi Mazuz chose to give a wide interpretation to these definitions and ruled: "It is allowed to aid (the party) from the tenth because the entire objective is for the sake of heaven (in God's name - KN), according to the amount and sum permitted by the law."

This ruling is made as Yishai's party faces economic difficulties, which reflected in a meager budget that was allocated for the party election campaign and also led its campaign manager Ethan Dor-Shav and spokeswoman Shir Sagi to quit the party.

Rabbi Mazuz has made other controversial rulings and comments in the past. When asked about the difference between Ashkenazi education and Sephardic education, he replied: "Why did the terrible Holocaust nearly pass over the Sephardim? It is the fruit of the holy Torah's education."

Mazuz is considered one of the most senior rabbis among Sephardic ultra-Orthodox, but he is less well-known to the wider public.