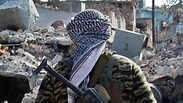 War-torn Syria crosses 210,000 deaths
Photo: AP
The death toll after nearly four years of civil war in Syria has risen to 210,060, nearly half of them civilians, but the real figure is probably much higher, the Syrian Observatory for Human Rights said on Saturday.
Meanwhile, Jordan carried out air strikes on Islamic State targets for the third day running on Saturday, mainly targeting the jihadist group's Syrian stronghold of Raqqa, a security source said, highlighting how the ongoing conflict has metastasized into an international crisis.
"Sorties of air force fighters today bombed (Islamic State) bases," state television said in a bulletin. It gave no details. Jordan launched the raids on Thursday in response to the group's killing of a captive Jordanian pilot.
A second security official told Reuters Jordan had conducted at least 60 raids over the past three days, mainly on targets in Islamic State-controlled territory in Syria but also on several in Iraq.
Jordan's King Abdullah has vowed to avenge pilot Mouath al-Kasaesbeh's brutal killing, and ordered his commanders to prepare for a stepped-up military role in the U.S.-led coalition against Islamic State.
Death toll
The Observatory, which is based in Britain and has a network of activists across Syria, said that 10,664 children and 6,783 women were among the dead. Reuters tried to contact Syrian authorities for comment, but they were not immediately available.




Peaceful protests against four decades of rule by President Bashar Assad's family in March 2011 degenerated into an armed insurgency following a fierce security crackdown.

The rights group said it had counted 35,827 Syrian rebels and 45,385 Syrian army soldiers killed. The Observatory's toll could not be independently verified by Reuters.

Among the Observatory's documented deaths were 24,989 foreign jihadist fighters, including radical Sunni rebel groups such as Al Qaeda offshoot Nusra Front and Islamic State.

But the total death toll was likely to be much higher, perhaps by more than 85,000, said the group's chief, Rami Abdul Rahman. Groups on both sides try to hide their casualties, he said, making the fighter death toll very difficult to gauge.

Over 3,000 fighters belonging to Shi'ite militias and groups in Iraq and Iran, including 640 from Lebanon's Hezbollah, died fighting alongside the Syrian army, the group said.




Abdul Rahman said all the cases included in its 210,000 death count were those it could verify with either name and identification documents, or pictures or videos.

Syria had a population of some 23 million before the outbreak of the war. Beside the dead and injured, the United Nations says some 3.73 million Syrians have fled the country and officially registered as refugees abroad.

The rights group also said the war had left 1.5 million Syrians with some type of injury and permanent disability.