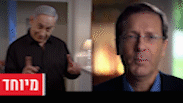 Noy Alooshe pokes fun at Bibi/Buji divide
Though over 11 parties are competing for a seat in Israel's Knesset as part of Israel's elections, the vote seems to be about whether Israelis want Benjamin Netanyahu – aka 'Bibi' – to continue as prime minister – or would rather give Isaac Herzog – aka Buji – a run at running the country.

Noy Alooshe – Israel's official king of video remixes – has weighed in on the issue and others in a string of new video broadcast first and exclusively by Ynet.

In the newest video, Alooshe takes aim at the prime minister and his wife Sara, who recently let an interior design specialist into their home as a possible attempt to gain public sympathy before the findings of a damning report were released. In the video, Sara shows the designer around and displays the 'dismal' state of the official home of the prime minister.

נוי אלוש

Alooshe juxtaposed scenes from the video tour with cuts from Shas' election campaign, a tearjerker aimed at courting the poor. In the campaign video, the party's chairman attempts to give voice to the poor.'

Beforehand, Alooshe took on the drama of Netanyahu's upcoming speech to Congress.

Party at the White House. ( )

In Alooshe's previous video, he poked fun at the growing rivalry between Netanyahu and Herzog.

Video: Noy Alooshe ( )

Drawing his inspiration from the world of hip-hop, Alooshe splices together catchphrases, awkward facial expressions and catchy dance music to skewer politicians across Israel's chaotic political spectrum.

Aside from the creative satisfaction, Alooshe says he is relishing being a new player in the national political conversation. "It's not only the music that matters for me now," the 35-year-old said.

Working from a one-bedroom apartment in a bohemian Tel Aviv neighborhood, he samples speeches online and melds them into songs using a keyboard and a flurry of electronic beats.

He then uploads the creations to his Facebook page and YouTube channel, where they regularly get tens of thousands of hits and become national water-cooler conversation pieces.

"This is the kind of thing that rules the Internet today," he said.

The Associated Press contributed to this report.