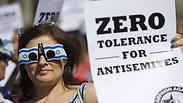 Protest against anti-Semitism in London.
Photo: AFP
Urgent action is needed to tackle a "disturbing" rise in anti-Semitism in Britain, including measures to deal with growing "cyber hate" on social media, the All-Party Parliamentary Inquiry into anti-Semitism said Monday.

Last week, the Community Security Trust - which advises Britain's estimated 260,000 Jews on security - reported that the number of anti-Semitic incidents in Britain had risen to a record level last year.

Related articles:

Many of those incidents were sparked by the 50-day conflict in Gaza that ended in August. Israel launched its Gaza offensive with the declared aim of halting rocket attacks by Hamas. The rise in incidents prompted the parliamentary inquiry into anti-Semitism.

"Whilst the Jewish community is diverse and multi-faceted there is a palpable concern, insecurity, loneliness and fear following the summer's rise in incidents and subsequent world events," the report by the cross-party group of lawmakers said.

"A more sophisticated understanding of anti-Semitism is needed, together with better defined boundaries of acceptable discourse."

Across Europe, Jews have warned of a growing under-current of anti-Semitism, fuelled by anger at Israeli policy in the Middle East and social tensions over immigration and increasing economic hardship under austerity policies that have helped far-right movements gain popularity.

Those fears have been exacerbated after an Islamist militant gunman killed four people in a Jewish supermarket in Paris last month.

The British lawmakers said the government, police and prosecutors needed to take action "to ensure Jewish communities have the necessary protection from the continuous terrorist threat they face".

Amongst their 34 recommendations was a call for a governmental fund to pay for security at synagogues and an independent council to be created to monitor trends in anti-Semitism.

They also said prosecutors should review possible action to prevent the spreading of hate online, noting that "Hitler" and the "Holocaust" were amongst the top 35 key words used on Twitter during the summer months of 2014.

The hashtags "Hitler" and "genocide" appeared with "high frequency", the prosecutors added. The hashtag "Hitler Was Right" trended worldwide in July 2014.

Some members of parliament suggested that lawmakers consider preventative orders such as having restrictions to internet access for certain individuals, similar to restrictions for sex offender's internet use.

Prime Minister David Cameron said Monday's report was "hugely important".

"No disagreements over foreign policy or politics can ever be allowed to justify anti-Semitism or any other form of racism, prejudice or extremism," he said.

According to a survey last month, a quarter of Jews have considered leaving Britain in the last two years and well over half feel they have no long term future in Europe.

"The threat against the Jewish community is real and anxiety remains high," said Britain's Chief Rabbi Ephraim Mirvis.

Following the Paris attack, the police said it had stepped up patrols at synagogues and other Jewish venues.