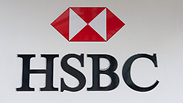 HSBC involved in illegal offshore accounts scandal.
Photo: EPA
Israel is ranked sixth on a list of nations whose citizens held the largest amounts of funds in secret offshore Swiss bank accounts belonging to HSBC, with Israelis holding a total of 10 billion dollars in combined accounts.

Documents stolen by a whistleblower in 2007 were leaked on Sunday and detailed how HSBC helped cheat the United Kingdom out of millions of pounds in tax.

Switzerland, Britain, Venezuela, the United States, and France where the top five countries on the list of countries whose citizens held offshore bank accounts with HSBC, Britain's largest and the world's second largest bank.

The largest amount of money kept in the banks by a single Israeli was 1.5 billion dollars.

Of the offshore accounts, 9,769 bank accounts belonged to Israelis, and 6,554 clients had connections to Israel, 49% of having an Israeli passport or nationality. Among the names of wealthy clients on the list that was leaked was the diamond merchant Beny Steinmetz and his family.

A whistleblower, a computer expert working for HSBC in Geneva, stole and leaked documents containing details of more than 100,000 clients from around the world, according to a report by the BBC.

The thousands of pages of information were obtained by French newspaper Le Monde and were shared with other news outlets, the Guardian and the BBC, in order to conduct a joint investigation. The documents were passed to the International Consortium of Investigative Journalists (ICJ) as well as 50 media outlets around the world.

The documents reveal how HSBC bankers helped their clients evade tax and offered special deals to help tax dodgers help escape the law.

HSBC says that it has "fundamentally changed" since the documented tax evasion took place in 2007. The bank admitted that some clients took advantage of bank secrecy to hold undeclared accounts.

Offshore accounts are not against the law but many people use them to deliberately hide funds from tax authorities, which is illegal.

The leaked documents revealed that HSBC served individuals close to discredited regimes such as that of former Egyptian president Hosni Mubarak, former Tunisian president Ben Ali and current Syrian ruler Bashar Assad, according to information published by the ICJ.

Other Middle East leaders and high ranking officials included on the list of clients with secret offshore bank accounts were King Abdullah II of Jordan, Prince Bandar (who served as Saudi Arabia's Ambassador to the US from 1983-2005), Sultan Qaboos of Oman, Egyptian politician R.M. Rachid and King Mohammed VI of Morocco.

Actors and actresses were also some of HSBC's clients who held secret offshore accounts, among them Christian Slater and Joan Collins.

The list also included famous fashion designers Diane Von Furstenburg and Valentino Garavani. Model Elle MacPherson was also on the list, as was Australian media mogul Kerry Packer.

The documents also revealed that HSBC Private Bank (Suisse) continued to offer services to clients who had been unfavorably named by the United Nations, in court documents and in the media as connected to arms trafficking, blood diamonds and bribery.

Stephen Green, HSBC's global chief executive at the time of the Swiss operations, has not released a comment in response the leaked documents. Green is now a Conservative peer in the House of Lords and was trade minister in David Cameron's government from 2011-2013 – he took up his post eight months after HMRC had been given the leaked documents from the whistleblower.