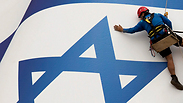 Out of the 8.2 million Israelis, 5.3 million of them are eligible voters, according to a report published Monday by the Central Bureau of Statistics.
Nearly 16 percent of the electorate are aged 18-24, about 30 percent are 25-39, and 31 percent are 40-59. Voters aged 60 and over make up about 23 percent of the electorate.
Since the last elections, which took place in 2013, the number of eligible voters in Israel has increased by 4.5 percent, about 231,000 people.
80 percent of eligible voters are Jews, 15 percent are Arabs and Druze, while 5 percent do not fall into these categories (such as Christians or residents without religious affiliation).
These figures do not include adults who are listed in the population registry but do not have the right to vote because they do not have citizenship. This group is composed mostly of Arabs in East Jerusalem and Druze in the Golan Heights.
The estimate also does not include Israeli citizens who can vote, but have lived abroad for an extensive period of time. The CBS estimate is about 540,000 lower than the number of eligible voters listed in the Electoral Registry (a 10 percent difference), because the Bureau's figures reflect only the population that permanently resides in Israel, while the Registry also includes citizens who reside abroad for an extensive time.
Some of the eligible voters listed may have died during this period without the National Registry being informed.